What are some good community activities
Online communities can be a key success factor for companies. Because social media channels in particular offer potential for long-term and sustainable relationships. Interested parties can become users and ultimately advocates of a company - if marketers pick them up there with good community management.
How you like your Community management on Facebook, Twitter and Co. You can find out why listening is sometimes not enough in our ten tips for successful community management.
Why is community management important?
Community management is a central instrument for building and maintaining long-term customer relationships. By moderating discussions and answering questions on social networks, a company enters into direct dialogue with (potential) customers. This can have a positive effect on resales. The analysis of community activities also identifies new or changing user needs.
Ten tips for successful community management on Facebook and Co.
Dialogue with followers can be a tightrope walk. The following tips will help you to use the potential of a community even better and to act confidently and profitably with your followers.
1. Monitoring
Online communities are fast moving and complex - In order to maintain an overview, comprehensive monitoring with the right tools is of central importance. On the one hand, you can use this to record which topics and trends are driving users. On the other hand, you always know where your intervention is required to settle disputes and moderate discussions.
2. Fast response times
Those who have to wait a long time for answers or, in the worst case, don't get any at all, don't feel they are being taken seriously. Users tend to be impatient, especially on social networks. For example, on Facebook, you shouldn't keep users waiting longer than two hours. Twitter users usually expect feedback within an hour.
3. Uniform formulations and positions
Community management represents a company in the online community. Language and positioning should correspond to the company's self-image - this conveys authenticity and creates trust. It is a good idea to create an internal briefing in which all rules for communication are laid down, from the choice of words to grammar and the use of hashtags.
4. Use community management tools
The larger the community, the more complex community management becomes. A tool enables you to work in a structured manner through a better overview. With tools such as SocialHub, Facelift Cloud or Hootsuite, you can manage your social media channels clearly on a dashboard and keep track of all interactions.
5. Set clear rules
Respectful interaction is important for every community - whether online or offline. To avoid misunderstandings right from the start, you need to confidently enforce rules. Insults, discrimination and trolls are not tolerated, which in turn creates positive framework conditions for the rest of the community. As a rule, companies record these guidelines in a "netiquette" that can be viewed on the website or the corresponding channel. A good example is the ARD netiquette.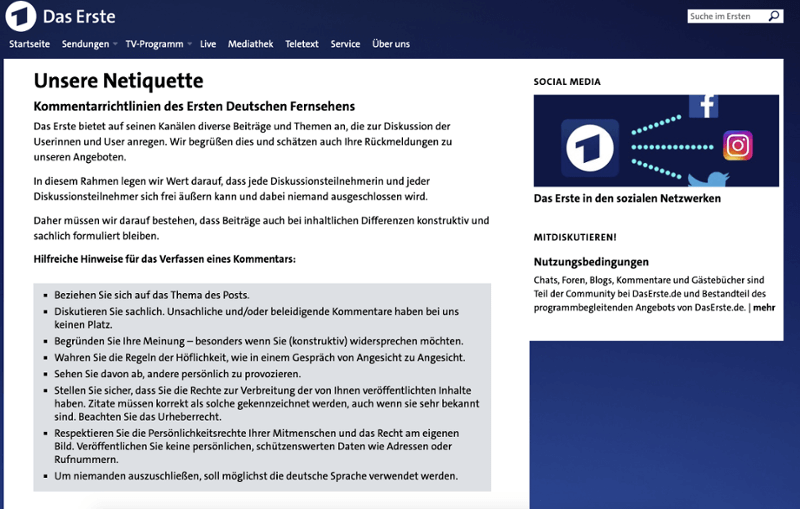 Image: ARD Netiquette
6. Clarify responsibilities
In order to avoid discrepancies, it must be clearly defined within your team who replies to contributions and acts as contact persons. This is the only way to maintain communicative goals and ensure quality.
7. The face behind the post
Communities offer companies the opportunity for direct dialogue between followers and their employees. Take advantage of this opportunity and make the contact persons transparent, for example through your own accounts or through the abbreviations behind the comments.
8. Collect FAQ
Good community managers answer every questioneven if it has been asked a dozen times. That may sound like a mammoth task, but with a fixed questionnaire you are well prepared for such cases. But: Standard answers without personal reference never go down well! With a few linguistic variants and a personal salutation, you can prevent the unpleasant copy / paste effect. Alternatively, you can address the problem or question individually in order to then refer to the appropriate section in the FAQ area
9. Interaction with the community
A good community management not only reacts to questions and problems, but also actively engages in dialogue with the community. Target group-relevant surveys, votes and questions encourage followers to interact and positively influence the growth of the community. Discussions in the community often also offer good starting points for an exchange. So here it is worth keeping your eyes open and watching the community.
10. Show empathy
To listen is maybe that most important task in community management, because we all want to have the feeling of being taken first. With specific help with concerns or criticism, you give the community the feeling of being understood. It is therefore all the more important that repeated criticism or requests ultimately reach the responsible colleagues and bring about changes. Alternatively, you can address the problem or question individually in order to then refer to the appropriate section in the FAQ area.
With all the rules, a certain looseness is still advisable. Even a funny, emotional, or self-deprecating post can work very well and show that you are not taking yourself too seriously.
How to deal with negative criticism ... and learn from it!
The monitoring is running smoothly and you answer every question quickly? Nevertheless, almost every community management on Facebook and other platforms is confronted with digital anger attacks at some point. With good monitoring, you are at least better prepared for this and can react confidently and quickly in a crisis. Playing insulted and discrediting critics is the completely wrong approach at this point - no matter how irrelevant the comments may be.
If you actually made a mistake, play with open cards and be honest. In any case, comments should only be censored or deleted if there is no other option or rules have been violated. Such measures often only add fuel to the fire, as the community feels deprived of its freedom of expression. Basically, you prefer to perceive negative criticism as an opportunity that can improve corporate communication. It is also advisable to set up standardized processes for crisis situations that can be called up quickly if necessary.
Community management is often still seen as a necessary evil in many companies, but it offers valuable opportunities for your company Customer relationship management. In order to build sustainable and long-term customer relationships, the constant dialogue with the community is particularly important. Efficient community management that acts close to the followers and authentically represents the company can achieve just that.
Header image: golubovy / iStock / Getty Images Plus
Originally published August 16, 2019, updated on August 15, 2019
Recommend this article: