What should Turkey do for Uighur Turks
Uyghurs in Turkey: a life in fear
"I haven't had any contact with my family for five years. That's why I only found out about my father's death a year later," reports 32-year-old Abdüsükür with tears in his eyes. He lives in Zeytinburnu, the district of Istanbul where most of the Uighur immigrants live and work.
He is one of 50,000 Uyghurs who have fled to Turkey, especially in recent years. The government in Beijing is cracking down on the ethnic minority: there are repeated reports from witnesses that members of the ethnic group are being sent to re-education camps. There they are interned under inhumane conditions. Many of the Uighurs arrested, including children, were arbitrarily torn from their daily lives. There are no official figures, it is estimated that there are at least several hundred thousand people in the camps in northwest China.
"Just because we prayed"
Abdüsükür also had to flee to Turkey from the Uyghur province of Xinjiang - in the far northwest of China - five years ago. "We were constantly persecuted in East Turkistan (meaning Xinjiang, editor's note). There were many people who had to go to prison or to a re-education camp because they prayed."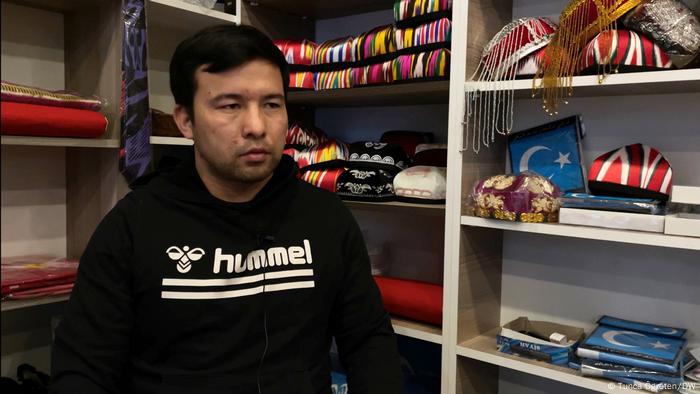 The 32-year-old Abdüsükür is concerned about reprisals against his family in China
Uyghurs are a Turkic-speaking ethnic group, almost all of whom belong to the Islamic religious community. Because there are many cultural similarities between the Turkish and Uighur populations, many Uyghurs emigrated to Turkey - but also because the Turkish government promoted their immigration for years. Today the largest Uighur diaspora is located in Turkey.
"I was not only afraid for myself, but also for my family. So I decided to flee to Turkey." Since that day, he has only been able to speak to his mother, who has stayed behind in China, once. "Uyghurs who are in Turkey are forbidden (by the Chinese authorities, editor's note) to speak to their relatives."
Fear of deportation
He found out about his father's death through a friend, says Abdüsükür. He immediately reported to his mother, who was still in Xinjiang. "She confirmed my father's death and warned: 'Don't call us again. If they (the Chinese authorities, editor's note) find out about this, they will pursue us." It is the last time that he spoke to his mother.
Abdüsükür, who works in a second-hand shop for mobile phones in Istanbul, takes part in protests against the oppression of the Uyghurs in China at every opportunity and tries to raise awareness of the problems in his home country via social networks. He has already been arrested twice by the Turkish police in this context. When investigations were started against him, he was very scared, says Abdüsükür. He does not have Turkish citizenship, so there is always the risk of being extradited. Since an extradition agreement was agreed between Ankara and Beijing in 2017, which has yet to be ratified by the Turkish parliament, the fear of deportation has increased among many Uyghurs.
Family reunification made much more difficult
31-year-old Ömer Faruk, who immigrated to Turkey from the western Chinese city of Korla, already has Turkish citizenship. Therefore, although he cannot be extradited, there are still many problems, he says. The father of five children has been in Turkey since 2016. But he had to leave two of his daughters behind in China. He shares the fate of many Uyghur immigrants: relatives who have stayed behind at home, some of them as children or senior citizens, disappear without a trace.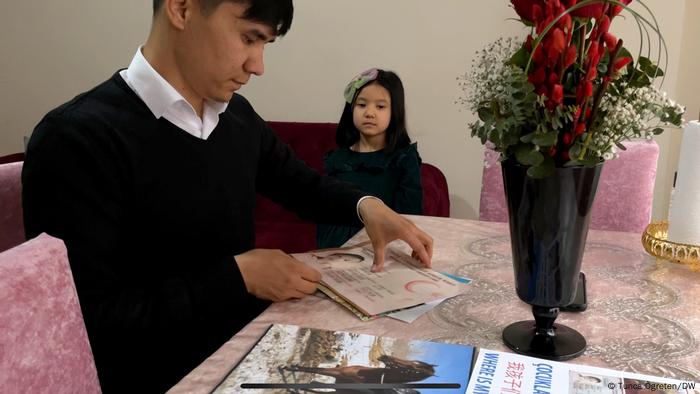 Ömer Faruk worries about his two youngest daughters, who had to stay behind in China
Faruk also has a similar story to tell: he can well remember the day when his wife called him five years ago while he was working as a guest worker in Saudi Arabia. She told him that the Chinese police were at the door. The police tried to confiscate the family's passports. He asked his wife to say she would bring the passports to the police later and urged them to get flights to Turkey instead and disappear as soon as possible, reports Faruk. The problem: The two youngest daughters, who were one and a half and three years old at the time, had no passports. Faruk flew to Turkey alone with three children - his wife stayed behind with the other two children.
"I don't know where my two daughters are"
"My wife came later and left the two children with my mother-in-law. My brothers wanted to help me bring my daughters to Turkey". But the plan failed because they were arrested. "My mother-in-law has now also been sent to a re-education camp. At the moment I don't know where my two daughters are."
Faruk doesn't know if they are still alive, he has no more contact with his family. Uyghurs who emigrated to other countries managed to bring their families back, he says. "The Uyghurs, who in my situation became Austrian and Egyptian citizens, were able to save their children and families".
"My wife is on her nerves, she cannot sleep at night. My children think of nothing but their siblings. They ask: 'When will we have them with us again, father?' I'm desperate. Did you put her in storage? Nobody knows. "
Still, Faruk is happy about his Turkish passport. "In contrast to many other Uyghurs, I don't need to be afraid of extradition." Therefore, he regularly takes part in protests in front of the Chinese representations in Istanbul and Ankara, in the hope that at some point the situation of the Uyghurs in Turkey and around the world will attract more attention.
Adapted from Turkish by Daniel Derya Bellut.