Are ceramic utensils always microwave safe?
Stainless steel pot - the robust all-rounder for the kitchen
Top topics: Cleaning, Top 4, Manufacturers
According to Statista, over 48 million tons of stainless steel were produced worldwide in 2017 alone. Ascending trend. There are good reasons for this enormous demand. Before we go into more detail about the individual advantages of stainless steel cookware, we would like to clarify what stainless steel is all about. Steel with a high degree of purity is called stainless steel. Steel, on the other hand, consists largely of iron. The properties of stainless steel products depend directly on the exact composition. The main component iron can be mixed with various alloy elements, including nickel, titanium, molybdenum, cobalt and chromium and each of these components has its own individual effects.
Most of the pots will be embossed with 18/10 or 18-10. It stands for the steel grade 1.4301 (X5CrNi18-10), the most frequently used stainless steel. It is ideal for use in the kitchen. In the American nomenclature American Iron & Steel Institute, AISI for short, also known as steel 304. 18/10 stainless steel is also resistant to food acid, heat-resistant up to 600 ° C, can be processed very well and water vapor and water cannot harm it. Perfect conditions for cookware. Thanks to its acid resistance, which also applies to vinegar, you can, for example, also put a sauerbraten in it.
The numbers 18 and 10 stand for 18 percent chromium and ten percent nickel. While chromium ensures corrosion resistance, nickel makes stainless steel resistant to acids. But since not all pots available on the market are made of this durable and rust-free stainless steel, you should check the item description critically.
Stainless steel is only rust-free if the chromium content is at least 13 percent.
Avoid 18/0 stainless steel!
In 18/8 stainless steel goods, the chromium content is 18 percent and the nickel content is 8 percent. This type of steel is also food safe and processed into household goods. 18/0 stainless steel is heat-resistant, but only insensitive to weak acids. The reason: The nickel content that makes acid resistance possible is missing. Recognizable by the number 0. This type of steel is also more sensitive to chemicals than 18/10 or 18/8 stainless steel. 18/0 stainless steel is used more in the area of ​​inexpensive pots and should not be your first choice.
Tips for iron deficiency and nickel allergy
Do you or a family member suffer from iron deficiency or a nickel allergy? Then pots made of cast iron or enamel, ceramic or coated vessels would be the better choice. Cast iron cookware releases small amounts of iron into food. This is completely harmless and even healthy. Enriching food with natural iron can help reduce the iron deficiency in the body. However, the casting pots must not be coated for this purpose. A coating acts like a barrier: the iron cannot migrate to ingredients.
Although high-quality stainless steel pots cannot be described as harmful to health, there is one exception: If nickel (Ni) triggers allergic reactions, alloyed stainless steel pots with a nickel content are taboo. They could cause blisters on the mucous membranes and itching in the mouth, among other things. One of the most common alloys is, for example, chrome-nickel steel. Since many stainless steel pots contain nickel, care should be taken when buying. When preparing acidic foods such as sauerkraut, nickel could be released. The amount decreases as soon as something strongly acidic has been cooked in it and a kind of protective layer forms, but allergy sufferers are better off not relying on it.
For example, the Silit brand sells nickel-free cooking utensils: Silargan pots are shaped by a steel core with a ceramic coating and are impact, scratch and cut resistant. But also enamel or pure ceramic accessories, such as Roman pots, are predestined for nickel allergy sufferers. In addition, the 420 stainless steel (EN 1.4021) is a chrome steel without nickel. Compared to 18/10 or 18/8 stainless steel, the 420 is less resistant to corrosion. Therefore, dry them thoroughly before storing them in the kitchen cupboard, and immediately after washing the dishes. Do not allow to air dry!
Some vegetables also naturally contain nickel. Beans, lentils and peas contain a lot of nickel.
Caution - stainless steel must not be used in the microwave!
Stainless steel pots have no place in the microwave. The iron contained in stainless steel is metallic and can lead to dangerous voltage arcs and flashes of light with the associated sparking in the microwave. A fire can result. Using stainless steel pots in the microwave would be of no use anyway, because metallic containers shield the microwave radiation and the heating of food does not work.
Chic surfaces for timeless elegance
A good stainless steel pot is a must in every kitchen equipment and a timeless companion for many years. There are high-gloss and matt models, as well as combinations of both. The silver surface always makes an elegant impression with appropriate care.
3 essential quality features of the stainless steel saucepan: base, rim and lid
A classic stainless steel pot consists of a pot and a lid. What sounds simple is associated with a number of challenges when comparing products. In order to benefit from a reasonable price-performance ratio, you should carefully examine the following three factors:
Pot bottom - capsule bottoms for maximum efficiency
Most people do not suspect that the bottom of a stainless steel pot plays an elementary role in terms of the cooking experience. Why should it? After all, a pot base couldn't be less interesting at first glance. But appearances are deceptive: Stainless steel is not a good conductor of heat, which is why pots made of this material need more time in comparison to bring the contents to temperature. The heat storage capacity also leaves a lot to be desired. To compensate for these negative properties, a sandwich base or capsule base with a copper or aluminum core is integrated. With the sandwich base, the accompanying material is packed between layers of stainless steel like a sandwich, while with the capsule base, on the other hand, it is completely encased in stainless steel. With both solutions, food does not come into contact with copper or aluminum. If you have the choice, choose the capsule base!
Copper and aluminum conduct heat faster and thus complement stainless steel effectively. While aluminum stores heat well, copper does better in terms of heating up time. The thermal conductivity of copper exceeds that of aluminum by more than 40 percent (based on the thermal conductivity values ​​at 200 degrees Celsius). So copper floors get hot much faster and distribute the temperature more evenly. You save time and energy. Copper floors are suitable for all types of stoves, with the positive effect when heating is particularly evident with induction and gas. The floors react extremely quickly to the supply of heat. Aluminum floors, on the other hand, inhibit the quick reaction and are not recommended for these two types of stove.
Due to the lower costs, the majority of pot manufacturers use aluminum bases. A thickness of at least four, better six millimeters is even more important here than with copper. Only in this way does aluminum achieve a comparable heat distribution.
However, it has two advantages that stainless steel is a poor conductor of heat:
Once the heat has reached the inside of the pot, it stays there for a while and is only slowly conducted to the outside.
Since the material radiates relatively little heat, it saves energy when cooking.
Processing of the floor is elementary - longevity requires a lot of pressure
In addition to the material and strength, the processing of the bottom of the pot is decisive when it comes to longevity. In the case of cheap pots, aluminum bases are welded to the stainless steel pot body at medium pressure. Due to the poor workmanship, the two elements can detach from each other after months. This increases energy costs and the time it takes to cook, because heat cannot work efficiently. For high-quality stainless steel pots, manufacturers connect the parts at more than 700 tons of pressure. Such connections hold reliably and permanently. There are certainly high-quality stainless steel pots that survive a whole generation and are intact after decades of intensive use. How long the cookware will last also depends on how it is cared for. A good stainless steel pot can withstand at least several years without any loss. Unfortunately, this is not guaranteed with cheap goods, which is why investing in quality is worthwhile in every respect.
Modern stainless steel pots are usually suitable for all types of stoves. Regardless of whether electric, gas, ceramic or induction. You can tell whether they are suitable for induction by the coil symbol inside a square. It indicates ferromagnetic material. Are you unsure? Use a magnet to help: If it sticks to the bottom of the pot, you can place the cooking vessel on the induction hob.
Efficient heat conductors thanks to the multi-layer system
As mentioned earlier, stainless steel does not conduct heat very well. As a result, the heat generated by the stove can only develop its effect on the bottom of the pot. For comparison: With cast iron, the entire cooking vessel heats up and heats the contents properly from all sides. A significant disadvantage with stainless steel. But this problem can also be solved with multi-layer pots. They also conduct heat along the edge of the pot, which makes the cooking process more even and saves energy. Le Creuset is one of the best-known manufacturers of multi-layer products.
Pot lid - is it still tight?
For the lid, you should prefer models that can be plugged in. Frame and press-in lids have a wide rim and close pots particularly reliably. The production is more complex and the lids are therefore more expensive, but the investment is worth considering in view of the energy savings and the added convenience. Many lay-on lids cannot keep up. As the name suggests, they just lie on. Inferior quality pots do not fit properly, which means that lids rattle when cooking and valuable energy escapes. A high dead weight and a clean processing of the edges are decisive features of the lay-on lid.
A steam outlet hole prevents rattling, prevents boiling over and ensures controlled evaporation. You want to see how far the potatoes are or what the vegetables are doing? With a glass lid you always have the contents of the pot in view and do not have to interrupt the cooking process for visual inspection.
Functionality with the stainless steel pot - from milk to pressure cooker
A stainless steel pot should not be missing in any kitchen. You can use it as an asparagus or rice cooker, for example, or steam pasta, vegetables and meat in it and thus prepare a large number of popular recipes, from spaghetti Bolognese to blanched broccoli to Sunday roast. Preserving jam is also child's play. With the help of special shapes and equipment, you can even create specialties such as cheese fondue. Products with a tap are excellent dispensers of mulled wine or children's punch. Although the spout is not a must, a large ladle does too.
Because of the wide range of possible uses, there are all kinds of saucepans. Whether universal or special saucepans, soup pots or saucepans, large or small, high or flat: Hardly any other material for cooking accessories is so versatile. To give an insight into the huge world of stainless steel pots, we have arranged some of the most famous types of pots. Just click on the name and find out more about the special features in the respective guides:
Pressure cooker: efficient and fast cooking with overpressure.
Asparagus pot: Tall, slim pot especially for preparing asparagus.
Roaster: high casserole with a large base for fine meat dishes.
Pasta pot: tall, narrow pot, often with a sieve insert for easy draining.
Milk pot: Pot with a smaller diameter for gentle heating and prevention of boiling over.
And as if that weren't enough, stainless steel pots are also the perfect companions for camping. Due to their durability and insensitivity to external influences, the vessels can cope with the harsh conditions in the outdoor area. Variants with a foldable handle are practical. They can be hung on tripod racks to simmer directly over the campfire.
In general, stainless steel is always appropriate when something has to be boiled or heated. This applies to the cooking of pasta as well as to the preparation of soups, stews, jacket potatoes, vegetables and meat. Roasting is also possible, but not that easy without practice.
Do you want to put the stainless steel pot in the oven? In principle, this is possible thanks to heat-resistant stainless steel. It becomes problematic with handles made of plastic. If elements made of plastic are processed, they can usually not be used in the oven, but metal handles can. Many elements made of silicone and plastic can withstand up to 160 ° C, 180 ° C or more, which is why they can be used in the oven to a limited extent.
Advantages and disadvantages summarized
advantages
disadvantage

robust
hygienic
food safe
easy to care for
dishwasher safe
oven-safe
light weight
insensitive to temperature fluctuations
available for all types of stoves
available in a set
comfortable use
Noble design
many models suitable for induction

poor thermal conductivity (remedy capsule bottoms)
Nickel-containing pots are unsuitable for allergy sufferers
Shapes, equipment and accessories - sets are often cheaper
Cylindrical pots are ideal to make stirring, pouring out the contents and cleaning easier. In addition, a rounded transition between the bottom of the pot and the wall of the pot is advantageous because food is less likely to get stuck or stick to it, as is the case with angular transitions. In general, you have the choice between designs with a straight edge, bulbous alternatives, flat, high and medium-sized products, variants with and without a lid and a wide variety of handles. Whether stick handles, handles made of plastic, heat-insulated steel or ergonomic solutions. Typical accessories are vegetable steamers for gentle preparation in steam as well as coasters for placing on the table.
Save with sets
Do you need several saucepans so that you always have the right accessories to hand for different preparation variants? Reach for the pot set! They are often cheaper than buying them individually, effectively saving you money. But take a careful look at the scope of the set. Offers often contain a lot that is rarely or not at all needed and unnecessarily besieged the kitchen cupboards. Based on your cooking habits, decide which pot sizes, shapes and additions make sense. Do you also need pans, would a casserole with a handle or a milk pot for hot chocolate be useful? Compare several pot sets to get the ideal products for your needs!
Size of the stainless steel pot - enormous choice for household and catering
Due to the high demand, stainless steel pots are offered in almost every imaginable size and shape. The selection ranges from the small casserole with a diameter of twelve centimeters and a half-liter volume to generous steamers with a seven-liter capacity to the heavyweight with a 150-liter capacity for catering. The diameter of common saucepans is between 10 and 28 centimeters. Typical for private households are 10, 12, 14, 16, 20, 24, 26 and 28 centimeters. The capacity usually starts at half a liter. Jumbo pots, on the other hand, reach up to around 39 centimeters in diameter and have space for 8, 10, 15, 20 or even 25 liters, among other things. For gastronomic purposes, manufacturers sell 30, 50, 60, 70, 80, 100 and 200 liter pots.
Would you like to know how many liters fit in a stainless steel pot, but the manufacturer only provides information about the diameter? As a guide, we have listed common sizes including capacity:
High casserole 16 cm diameter almost 2 liters
Saucepan 16 cm diameter approx. 1.5 liters
Roasting pot 20 cm in diameter approx. 2.5 liters
Pressure cooker 22 cm diameter approx. 6 liters
Stock pot 28 cm diameter approx. 14 liters
There is no general answer to how many liters a saucepan holds. The capacity is influenced by the height, diameter and shape.
Important purchase criteria - high quality stainless steel and practical extras
criteria
Details
Size & shape

The diameter of the pan surface must match the hob
conical pot body for space-saving stacking

material

18/10 stainless steel
Capsule bottom
Pot bottom at least 4 millimeters, better 6 millimeters
rustproof
acid resistant
oven-safe
The pot must lie flat on the hotplate
Metal handles
for all types of stoves

security

Heat-insulated, reliably mounted handles for safe handling

maintenance
Weight

higher weight indicates better quality
Well-known manufacturers - WMF, Tefal, Silit and Fissler are ahead
Manufacturer
particularities

rustproof stainless steel alloy Cromargan®
acid-proof
permanently shiny
dimensionally stable
patented Cool + Technology (cold handles, signal red dots)
TransTherm universal base (suitable for induction)
dishwasher safe
easy to care for
Meat pots can be stacked to save space

Professional pot series optimized by celebrity chef Jamie Oliver
Premium stainless steel
stable handles
highly polished outside
strong induction shelves
optimal plan stability
oven-safe
Pouring rim
Embossed with Jamie Oliver

Brand of the WMF Group
stainless steel 18/10
polished
SiliTherm® universal base (glass ceramic, electric, gas, induction)
Heat resistant up to 250 ° C
dishwasher and oven safe
Pouring rim
partly 30 year guarantee
The brands Schulte Ufer, Krüger, Woll, Contacto, Le Creuset, Elo (including the Skyline and Rubin series) Ernesto (e.g. from Lidl) are also presenting stainless steel pots. If you are looking for cooking sets and pots for your next outdoor adventure, we recommend the Tatonka brand. There you will find various utensils for the outdoor kitchen, such as the family pot. The Swedish brand Trangia and Primus also sell camping utensils. You can order many products from Amazon regardless of opening times.
4 popular stainless steel pots
Secure 5 Neo pressure cooker from Tefal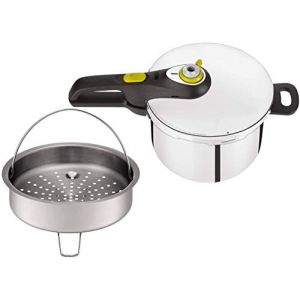 particularities
Contents 6 liters
for all types of stoves
2-stage cooking regulator
Basket insert with tripod
dishwasher safe
The induction-compatible pressure cooker from the Tefal brand is made of high-quality 18/10 stainless steel and has been carefully processed. A 10-year manufacturer's guarantee makes it clear that the manufacturer is convinced of the quality. With this stainless steel pot you can take advantage of the effectiveness of overpressure and prepare food quickly and in an energy-saving manner. An intensive setting for meat and fish as well as a gentle setting for vegetables and rice ensure success. The Secure safety system with safety valve, seal, lock and pressure valve ensures maximum protection. According to numerous customer reviews, the pressure cooker does what it should and impresses with its first-class price-performance ratio.

4-piece pot set Rubin by Elo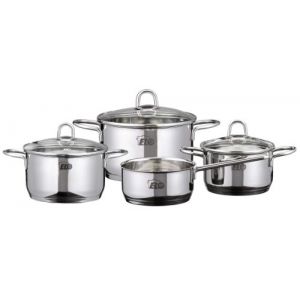 particularities
highly polished stainless steel
Liter scale inside
Oven-proof up to 240 ° C
dishwasher safe
If you need several stainless steel pots in different sizes and you want solid basic equipment for cooking, you are well advised with the pot set from Elo. For a fair price you get four pots: three meat pots with 1.6 or three and five liters with a heat-resistant glass lid and a saucepan without a lid with 1.2 liters. The high-quality 18/10 stainless steel has been polished to a high gloss so that the vessels leave a noble impression. The lids are equipped with a shockproof stainless steel rim to prevent damage. Points are deducted because, according to customer reviews, the lid handles get very hot and require the use of pot holders. The liter scale on the inside makes it easy to dispense liquids. You can use all four pots on induction stoves and in the oven.

5-piece pot set Tuscany by Silit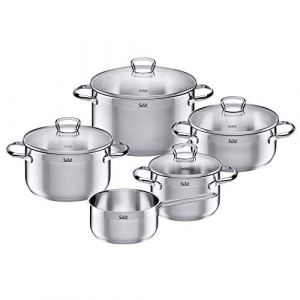 particularities
Partially matted stainless steel
4 glass lids
suitable for induction
dishwasher safe
wide pouring rim
The Tuscany pot set by Silit with its elegant design made of rustproof 18/10 stainless steel brings practical extras with it. It contains five pots: a casserole with around 2.5 liters, three meat pots with around 1.9, 3.3 and 5.7 liters and a saucepan. With the exception of the latter, a glass lid is supplied with each pot, one of the meat pot lids fits on the saucepan. The lids allow a direct view of the food to be cooked when the cooking space is closed. The encapsulated SiliTherm universal base distributes heat evenly, stores itself for a long time and saves energy. The set is suitable for the oven, dishwasher and induction. The handles are ergonomically shaped. A few buyers complain about staining and discoloration, but this is often due to individual circumstances and is not the rule.

Stewing pan from Tefal by Jamie Oliver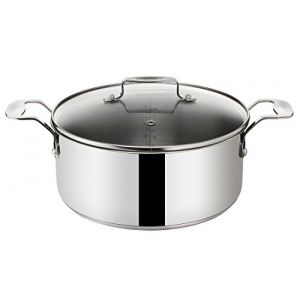 particularities
Including Jamie Oliver embossing
Oven-safe up to 260 ° C
for all types of stoves
strong capsule base
Measuring scale
The Tefal product series by Jamie Oliver was selected, optimized and intensively tested in his restaurant kitchen by the well-known TV chef. This casserole is part of the series and impresses with optimal temperature distribution and heat resistance up to 260 ° C (with lid up to 175 ° C). Thanks to the induction base with a ferromagnetic stainless steel plate, the plan is stable, i.e. it rests perfectly on the stove surface. With a capacity of three liters, you can use the pot in a variety of ways. The ergonomic handles were riveted. The measuring scale on the matt-polished inside and the glass lid with steam outlet opening for controlled escape of water vapor are practical.

Usage tips - with a little practice frying works too
Whether searing meat, cooking pasta and rice or steaming vegetables in a nutritious way. Sauces, soups, stews or roasts: stainless steel pots make pretty much anything possible. With a vegetable steamer insert you can even smoke fish, as the experts from Deutsche See prove in the video. A great idea that emphasizes the exciting facets of classic stainless steel pots:
Do you need more recipe ideas? In cookbooks and online you will find endless ideas for every taste.
Fry cleverly with patience
When roasting, it is completely normal for food to stick for a moment. Then patience is required: Wait until it comes off by itself, only then turn. Even and beautiful browning is achieved with stainless steel. You just have to be careful that you only use highly heatable oil (e.g. rapeseed oil) when frying and avoid overheating fat. Otherwise harmful or even carcinogenic substances could develop.
tip: Filled with ice cubes, you can convert generous multifunctional stainless steel pots into a drink cooler.
Cleaning the stainless steel pot - stains and discoloration do not need to panic
Unsightly stains, blue discoloration, limescale marks? There are some visual flaws that can be annoying with a stainless steel pot. They are not cause for despair. Our tips will keep your cookware sparkling clean:
Has your stainless steel pot turned rainbow colors? Then he most likely got overheated. Excessive heat can trigger such color changes. Find out about the maximum temperature in the instructions for use and never leave the pot empty on a hot stove!
Blue and colored discoloration can occur at the same time during washing and cooking processes. They are favored by contact with tap water and food. This can be a spontaneously created protective layer that is neither harmful to health nor impaired functionality or corrosion resistance. Simply remove with a little lemon juice or vinegar!
Soften leftovers after eating! Once they have dried out, they tend to leave stains.
Never use scouring pads, steel wool or scouring agents! They cause scratches and permanent damage to the material. They also promote the transfer of the ingredients to your food.
Flash rust can settle on inferior stainless steel pots after cleaning and become recognizable as brown stains. That is not tragic. By polishing the affected areas, the deposits disappear without leaving any residue.
To prevent stains, do not add salt to the saucepan until the contents are hot! If salt settles on the bottom, unattractive but harmless discoloration may form.
Remove limescale stains with acetic acid!
If you do not want to clean stainless steel cookware in the dishwasher but by hand, despite its suitability, warm water and washing-up liquid are sufficient. We have described in detail how burnt-on food can be effectively removed with home remedies.
What consumers complain about
A well-known problem with numerous stainless steel pots relates to cleaning the lids in the dishwasher. Depending on how the handles or lid knobs were installed, water collects in the gaps. This is annoying in everyday life because you have to be constantly careful not to spill any dripping water in the kitchen. Some handles can be loosened relatively easily to drain the water. Others do not, which affects hygiene. Find out about this problem through customer reviews!
Customer survey and tests - is the indication "made in Germany" still reliable?
Bad headlines are not uncommon in the cookware industry. Inferior goods from the Far East always cause a stir. Some brands advertise "made in Germany", but can only keep the associated quality promise to a limited extent. Nevertheless, consumers tend to trust well-known manufacturers rather than no-name goods. In 2014, the German Institute for Service Quality carried out a customer survey on the subject of "Most Popular Brand - Pots and Pans" on behalf of n-tv. Consumers were asked about 18 brands. Including Fissler, WMF and Silit. The test winner was Schulte Ufer. The brand received top marks for price-performance ratio and customer satisfaction. Fissler and WMF took second and third place. Since the results are based on authentic user experiences, they are definitely helpful when it comes to getting an impression of the brand quality.
But how do brands like Fissler and WMF fare in the tough quality check? Answers are provided by tests by the consumer magazines Markt, Marktcheck and Stiftung Warentest. While Markt took a close look at WMF in 2014 and was able to demonstrate quality differences between products from German and Asian production in a random sample, Stiftung Warentest tested a total of 16 saucepans in 2016, including twelve made of stainless steel.
The consumer organization also came to the conclusion that it was worth buying goods made in Germany: "The series that are made in Germany in particular are convincing with their solid quality and good cooking properties," is how the online magazine Stern sums up the test. With an overall rating of 2.0, Stiftung Warentest declared the Fissler Intensa stainless steel saucepan set to be the test winner. Interesting here too: It was produced in Germany and labeled "Fissler made in Germany". Another Fissler set in the test only bears the name "Fissler Germany", but was produced in China and is of poorer quality. Thinner pot bottoms, pot walls and hot lid handles were the shortcomings. Marktcheck put the company from Rhineland-Palatinate to the test in order to clarify the question of whether "Made in Germany" actually always applies. The consumer magazine comes to the conclusion that although several Fissler series are manufactured in Asia, it found hardly any differences between expensive and cheap models. The conclusion: "Fissler is known for its good quality - and rightly so: Fissler pots, knives and pans all performed well in our practice and laboratory."
Make sure that the products say "made in Germany" and not just "Germany" or something similar. If in doubt, ask the manufacturer directly where a pot was made. Test results and customer opinions make the decision easier.
Conclusion
High-quality stainless steel pots are reliable helpers in the kitchen. They form the solid basic equipment for cooking and make the preparation of meat, fish, vegetables, rice and pasta a lot easier. If the quality is right, you benefit from almost indestructible cookware that will serve you loyally for many years or even decades.
Related Links