What is the best app for making
Apps for making music
We all have a recording studio in our pockets: the market for Apps for making music is huge. Well-known manufacturers of well-known studio hardware are increasingly offering small offshoots of their developments for smartphones and tablets. Whether apps to produce beats, one or the other pocket-sized synthesizer app or entire recording studio apps - find out which ones are really worthwhile.
Apps for making music: the DAW in your pocket or the synthesizer for the iPad? There is nothing that is not there. Here you will find the most ingenious apps for making music!

By Alexander Schölzel
Make music: need an app? - content
Make music: need an app?
Some artists did it: The Gorillaz produced their album "The Fall" on the iPad - 20 apps were used. Steve Lacy, one of the producers of Kendrick Lamar's album "Damn", only used a guitar and his iPhone for the track "Pride".
Smartphones & tablets have long been of interest to producers and musicians:
As a whole production environment
For controlling hardware in the studio
For recording quick song ideas
Have you dreamed of a KORG MS20 for a long time, but shy away from the costs? No problem, the synthesizer app costs only a fraction, does not lack any functions and is also convincing in terms of sound technology.
I've tried to strike a relative balance between apps for Android and iOS in my choices. The selection for iPhone and iPad is a bit bigger, as Android is still struggling with high latency on its mobile devices. Starting with apps for making beats to DAW apps and fat synthesizer apps, there should be something for everyone here. The software presented here can be installed on both smartphones and tablets.
Create an app to beats
Intua BeatMaker (iOS for iPad, 27.99 euros)
The BeatMaker from Intua is available exclusively for the iPad. It costs just under 28 euros ... and that is fully justified for the quality of this beat making app. A total of eight banks, each with 128 pads, offer enough space for samples, instruments or plugins. There is also a sound store where you can download additional high-quality packs. The full-fledged mixer naturally also supports importing and exporting tracks for further processing. Either as a complete audio file or individual stems.
Mixvibes remixlive (iOS, Android, Mac / PC, 10.99 euros)
With this tool, samples can be easily stored and adjusted on a pad matrix. By drumming your fingers on the respective buttons, you can create simple songs on your mobile device in a flash. This free app for Android and iOS can be expanded with in-app purchases.
Native Instruments iMachine (iOS, 10.99 euros)
Native Instruments iMachine offers everything you need with a step mode, arranger and smart play keyboard. Easily produce beats - app make you happy! There is also the option of sampling and capturing sounds anywhere. The sound library contains a lot of sounds for all styles. Operation is intuitive and clear.
Studio Amplify KRFT (iOS, 5.49 euros)
The developers of the KRFT app are pursuing a completely new approach: no typical multi-track recordings, but an extensive tool box from which you can create your own personal production interface. In terms of graphics, triangles and rectangles as well as circles and discs are used, all of which have different functions.
In the app, several rectangles - which are shown here as loops - can be combined to form a cube. A triangle is then used to edit the sound and, for example, executes a morph command. A sound palette with 50 bass and just as many lead presets is completed by 14 drum kits and 50 effects.
Roli noise (iOS, Anroid [Google Pixel], free)
The music app Noise from the manufacturer Roli is free and has a lot in store for the user. Over 400 sounds can be used here and built into your songs. Of course, Noise can also be coupled with Roli's own products, such as the Blocks.
Android users currently have to own a Google Pixel or Pixel 2 in order to use the app to produce beats. As mentioned, the software is free, but also offers in-app purchases for expansion.
DAW App - Digital Audio Workstation
Steinberg Cubasis (iOS, 54.99 euros)
Cubasis from the renowned manufacturer Steinberg offers everything your heart desires. There is an unlimited number of audio and MIDI tracks, 24 assignable inputs and outputs, over 550 MIDI loops and time-stretch capable audio loops, as well as three virtual instruments with more than 260 sounds.
The software can be expanded with in-app purchases such as Waves plug-ins, classic machines or FX packs. The cost is € 54.99 - appropriate for this full-fledged DAW app.
FL Studio Mobile (Android, 17.99 euros / iOS, 14.99 euros)
Image-Line's FL Studio is one of the most popular DAW apps. So it's no wonder that there is also a mobile version of the popular workstation. It is available for Android, iOS and even Windows mobile platforms. Starting as a little gimmick, FL Studio Mobile has grown into a serious production app: Track view, fold-out control functions, step sequencer, drum pad and piano roll - everything on board.
Synthesizers, samplers and drum kits are available for sound generation. The plug-in functionality is a great thing: the app can be loaded as a plug-in in the desktop version, which means you can easily continue working on your mobile projects. If you synchronize both devices, it also works in reverse order.
Garage band (iOS, free)
When it comes to mobile DAW applications, Apple's Garage Band is a must. With this DAW app for iPhone and iPad you can record and arrange complete songs: touch instruments, effects, a large sound library - everything included. But it is also possible to connect your own instruments, for example a guitar, to record and to apply the supplied effects.
Another argument in favor of Garage Band is the in-house synthesizer Alchemy, which comes with hundreds of patches. A complete recording studio - to take away. The advantage here too: projects that were started on the smartphone can easily be continued on the desktop computer.
Samsung Soundcamp (Android, free)
The counterpart to Apple's Garage Band from Samsung is called Soundcamp and has a similar structure. "Real music in real time," the Koreans promise, using their own audio technology. A selection of musical instruments and drums are integrated, whereby the app can also be combined with external tools. With the compact DAW app, music can be recorded, edited and mixed on up to eight audio or MIDI tracks.
Suitable for this: Recording with iOS tutorial »
Recording app
Yamaha MG Rec & Play (iOS, free)
With the Yamaha MG Rec & Play app for iOS, high-quality audio recordings can be made from an MG-XU mixer via iPhone and iPad. Song titles and sound effects can also be played back. The recorder allows 2-track recording in WAV format at 44.1 kHz, 48 kHz and 96 kHz. The stereo bus of the MG-XU mixer serves as the source. With the help of the app, recording settings can be checked and predefined parts played. Ideal for creating sound sketches and recording your gigs.
Synthesizer app
KORG iMS-20 (iOS, 32.99 euros)
iMS-20 from KORG is a complete replica of the well-known analog synthesizer MS20. Every detail of the hardware was carefully transferred to the app: two VCOs, the two multimode filters, two dynamic envelope generators and a voltage-controlled amplifier. The app even has the self-oscillating high- and low-pass filters including the distortion unit.
Moog Music Animoog (iOS, 32.99 euros)
Moog Music's first synthesizer app for iPhone and iPad: polyphonic and with many features that are waiting to be discovered. The sound generation is based on the Anisotropic Synth Engine (ASE), whereby dynamic sounds run through an X / Y arrangement and very lively sounds are generated.
On board are polyphonic pitch shifting, a delay and thick module as well as an emulation of the Moog 4-pole cascade filter with low, high and bandpass modes. The Animoog can be operated with any MIDI controller via MIDI-In. Further features are an amp, filter and mod envelopes as well as an LFO with modulatable waveforms including sync.
Caustic (Android, 6.99 euros / iOS, 10.99 euros)
Caustic actually belongs more to the genre of the sequencer, but includes a whole range of synthesizer apps with which you can conjure up your own sounds after a certain training period. In addition to the usual suspects - synths for basses, pads and leads - there is also a modular sound generator in Caustic, which can be freely configured and routed.
There is also an effects rack with 16 effects, a mixer and a master section with parametric EQ and limiter. The full version can initially be downloaded free of charge, but saving is deactivated. An unlock key can be purchased for around 7 euros.
Make music on the go - apps are on the rise
The mobile production of tracks is definitely a topic that can be taken seriously. Last but not least, it is well-known figures who are increasingly focusing on developing their own apps and thus at least simplifying everyday studio life.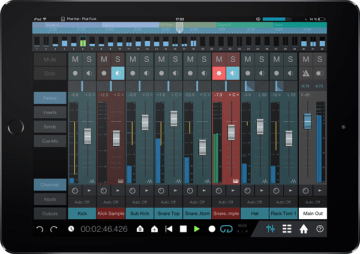 PreSonus Studio One Remote - Handy DAW app
If you just consider the amount of small programs for smartphones and tablets that can be used to control digital mixers, you quickly see that smart devices have long been integrated into everyday studio life. The manufacturers of well-known DAWs have also recognized the popularity of mobile devices. For their flagships when it comes to digital audio workstations, they offer dedicated apps for DAW control.
Editor's tip: Mobile Recording & Mixing: Workflow for Singer / Songwriters »
There is even more: Ableton Link, for example, enables various electronic instruments to work together - including lots of apps. Different music applications - be it on a tablet or smartphone - can be synchronized with one another via a local network. With Link, you can effortlessly make music together, with everyone using their preferred instrument. At the end everything comes together in Ableton's DAW »Live« and can be produced.
The market for apps for making music remains exciting. Apps are the first point of contact, especially in the beginner sector. The operation is usually very easy and many developers promise quick success and presentable productions in a very short time. So then, have fun exploring!