Who are your favorite blues guitarists
The best guitarists of all time
The most diverse people have asked themselves this question endlessly, who is one of the best guitarists of all time. Numerous listings, all of which contain the same names, can be found on the Internet and in music magazines. The best known is probably "The 100 Greatest Guitarists Of All Time" from Rolling Stone. Now we have also carried out a survey and asked you about your favorite guitarist.
Here comes the result of the readers' choice. Are your favorite guitarists included in the ranking? Take a look right now!

By Lea Kristin Schwalbe
Different taste in music, different favorite guitarist?
It is not only a question of the talent, performance or playing style of the respective guitarist, but of course it is also a question of your personal taste. If you prefer to listen to metal, Slash might be right at the top of your list. If you prefer the blues, then it's more like BB King or Eric Clapton.
If you love artists who try and experiment a lot of new things, Jack White, Jimi Hendrix or David Gilmore are more likely to be your number one.
But all in all, the "very best guitarist" question is a difficult one and the answer depends on many factors. Some of them are very much a result of personal taste. Even so, there are some particularly talented guitarists that almost everyone, no matter what genre he or she is in, finds impressive.
Jimi Hendrix, Pete Townshend, Eddie van Halen, Eric Clapton and many more. Regardless of the order in which they are named, these guitarists have helped shape music history and have repeatedly impressed millions of people with their guitar playing. Nonetheless, there is always someone who tops almost every list: Jimi Hendrix. It is also number one in our list.
Top 50 best guitarists of all time
1. Jimi Hendrix
Jimi Hendrix, the man who heads almost every list of the best, most influential or style-defining guitarists, was born in Seattle in 1942 and died in London at the age of 27 after losing control of his massive alcohol and drug consumption.
Hendrix was best known for his innovative and experimental style of play, in which he used a lot of fuzz and wah wah. He mostly used right-handed guitars with the guitar strings wound the wrong way round. His style is characterized by unusual chord progressions. Instead of the power chords popular in rock music, he liked to use more complex chords. With his special and prominent solo interludes, he helped lead guitarist to a completely new role.
He also played at some very big festivals such as Woodstock, Monterey Pop and Isle Of White. We have left four studio albums from the great master and voodoo king, some Fender Signature Stratocaster models and even a new edition of his '60s wah-wah pedal and a replica of his JHF1 Fuzz Face.
Jimi Hendrix won over 30% of the votes in our poll. A victory by a clear margin.
2. David Gilmour
David Jon Gilmour was born in Cambridge in 1946 and was a guitarist, singer and songwriter for Pink Floyd.
He is best known for his way of playing bends and slides, which come from his blues and rock'n'roll influence. He achieved world fame with the 1973 Pink Floyd album "The Dark Side Of The Moon", which is the best-selling album of all time after Michael Jackson's "Thriller" and AC / DC's "Back in Black".
His good friend Syd Barrett, whom he knew from school, founded the band Pink Floyd in 1965. Gilmour, who initially belonged to a cover band, supported him in appearances because Barrett was very ill. He eventually replaced him completely and was soon hailed as a great guitarist, especially for his unique and very experimental way of playing.
In addition to his great success with Pink Floyd, he was also a sought-after guest musician and recorded or accompanied pieces with Paul McCartney, Supertramp, Pete Townshend, Bryan Ferry, Elton John, B. B. King and other well-known musicians. He also owns a small recording studio in his houseboat on the Thames. On which some Pink Floyd productions and other bands like Porcupine Tree or Nick Cave & The Black Seeds were created. In his solo career, he released four albums, mainly "On An Island" from 2006 was a commercial success.
With just under 20% of the vote, David Gilmour made it to second place. That is only a 5% difference to third place.
3. Mark Knopfler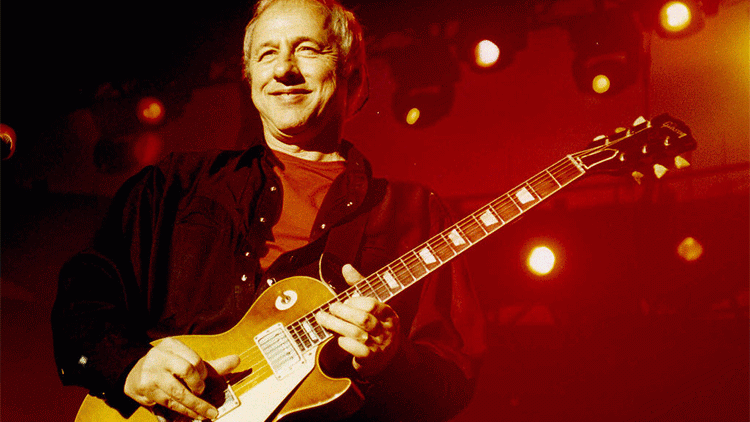 In this picture without his red Strat, but with a lot of charisma and talent: Mark Knopfler | Image: from aherrero [CC BY 2.0], via Wikimedia Commons
Born in Glasgow in 1949, Dire Straits front man Mark Freuder Knopfler began writing for a newspaper and appearing in clubs after finishing school to finance his journalism studies. After all, this part-time job should become his main job.
In 1977 he finally founded Dire Straits, among others with his brother David, and together they became world famous and very successful thanks to hits like Money for Nothing, Brothers in Arms or Walk of Life. In the early 90s, however, the members lost sight and Knopfler concentrated mainly on his solo career, among other small projects.
He released a total of 6 studio albums with Dire Straits and in March 2015 the eighth solo album "Tracker" followed. In addition to some film soundtracks or joint albums with Emmylou Harris or Chet Atkins, it is again a purely solo album by the 66-year-old.
4. Eddie Van Halen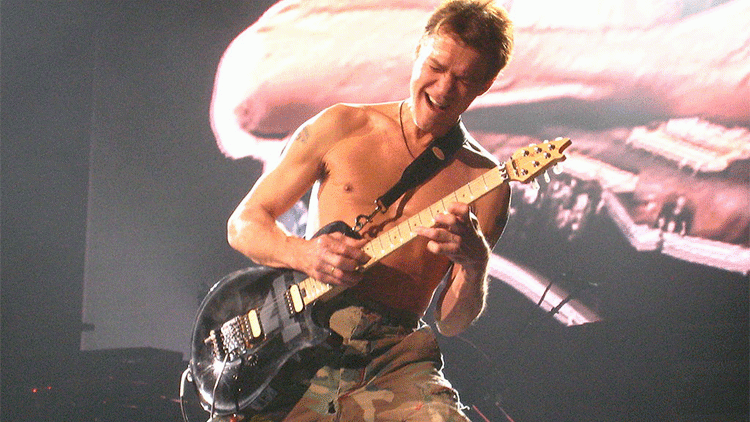 Number 4 among the best guitarists of all time: Eddie Van Halen on a tour in 2007 | Image: By Anirudh Koul from Montreal, Canada [CC BY 2.0], via Wikimedia Commons
Eddie Van Halen was born in the Netherlands and was a style-defining guitarist in rock music. Van Halen came into contact with music at an early age, as his father was a professional saxophone player and clarinetist. From the piano he came to the guitar in his early youth via drums.
When he and his brother founded the band with their surname Van Halen, which was also the title of their debut album, their life was nothing but a rollercoaster ride. Their first album immediately earned them great recognition and worldwide fame.
Everyone was enthusiastic about the young Eddie Van Halen, who cast a spell over them with his guitar playing. He used the tapping technique, which was not yet known at the time, for his solos and everyone wanted to know how he managed to play individual notes so quickly and precisely. That's why he turned around every time he used the technique for his solos.
In addition to developing and popularizing the tapping technique, he was also decisively involved in the development of tremolos such as the Floyd Rose tremolo.
Matching it: The best guitar solos of all time »
5. B. B. King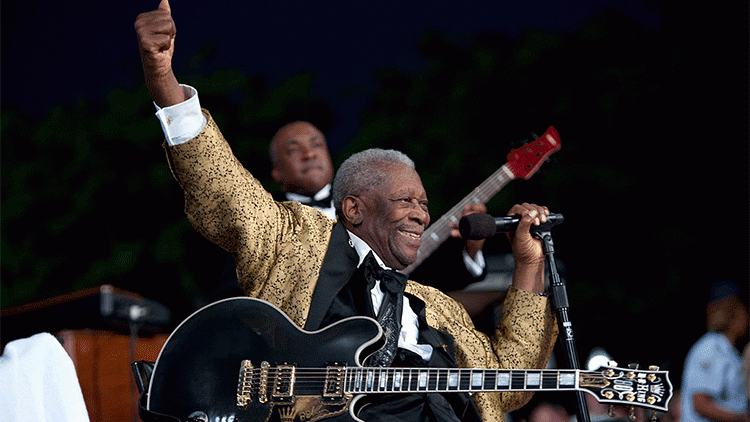 The late B. B. King was popular for his entertainment. | Image: By English: U.S. Navy Petty Officer 1st Class Chad J. McNeeley [Public domain], via Wikimedia Commons
B. B. King was born in Mississippi in 1925 and died on May 15, 2015 of complications from longstanding diabetes. What many guitarists probably immediately think of when they hear the name B. B. King is his black semi-resonant Gibson ES-335 without f-holes. His nickname "B. B. "comes from" Blues Boy "or" Beatle Street Blues Boy "King, which served as a pseudonym for his radio show on WDIA.
He influenced generations of guitarists with his guitar art and even now he has a great influence on guitarists-to-be. Until he was 87, i.e. two years before his death, B.B. King is still very active, in 2012 his very last album "Ladies & Gentlemen ... Mr. B. B. King!" Was released, as well as the soundtrack to his biopic "The Life of Riley". In total there are over 70 albums by him, some of which are chronicles, best-of compilations and live albums, for which he won a whopping 15 Grammys.
6. Eric Clapton
Eric Patrick Clapton, also known as "Slowhand", was born in 1945 in beautiful Ripley, Surrey, England.
If you let the numbers speak for themselves, it seems pretty superhuman: 280 million albums sold, 20 Grammys, three-time member of the Rock and Roll Hall of Fame, number 2 of the 100 Greatest Guitarists in Rolling Stone and countless other successes.
Young and very talented, not only as a guitarist, he initially wanted to study art, but dropped out at the age of 17 to begin his musical career. He played in a few smaller bands until he joined the Yardbirds in 1963. With them he was allowed to celebrate many successes until they became too commercial for him and he became a member of the Bluesbreakers.
Even greater successes followed with the mergers Cream, Blind Faith and Derek & The Dominos. On the side he worked again and again with well-known musicians and bands such as the Beatles, John Lennon, George Harrison, J.J. Cale, Duane Allman, Mark Knopfler, Tina Turner, Phil Collins, John Mayer.
In addition to this steep career, Clapton suffered from immense alcohol and drug problems as well as a heroin addiction. That is why, since the end of the 1990s, he has been arranging a lot in the Crossroads Center, a rehabilitation center for alcohol and drug addicts, which he founded. For this he also organizes his famous "Crossroads Festival".
7. Angus Young
Born in Scotland and later Australian, Angus McKinnon Young was confronted with music and band life at an early age through his older siblings. In his youth, he could hardly wait to disappear into his garage immediately after school and without replacing his uniform with everyday clothes to make music with his friends. At 15, he even dropped out of school to go to work to buy better equipment, but later caught up with his degree.
He also wore his school uniform during his performances and it became his trademark. Once he even stumbled across the stage with the uniform on. Embarrassed, he simply continued to play lying down and continued to use this peculiarity at his concerts, which helped him to quickly become known.
At the end of 1973, Angus and his brother Malcolm finally founded the hard rock band "AC / DC" and celebrated breathtaking success. Her album "Back in Black", for example, is the 3rd best-selling album of all time. As an instrument he mostly uses a red 64 Style Gibson SG.
8. Slash
A native of England, Saul Hudson moved to Los Angeles at the age of eleven after his parents split up, both of whom worked in the entertainment industry.
At the age of 13 Slash learned to play the guitar and since he is one of the youngest in our line, he had many role models, which are also listed here. He adored Eric Clapton, Eddie Van Halen, Jimmy Hendrix and Jimmy Page, among others.
During his school days he met the later Guns N 'Roses drummer Steven Adler. Together they founded the band "Road Crew", which constantly changed its line-up. Only Slash and Steven Adler remained its permanent members.
A demo tape then made them aware of singer Axl Rose and his band and after several members of this group left the group, "Road Crew" and "Hollywood Rose" finally merged to form Guns N'Roses. A few joint recordings quickly turned into major world tours and one of the most successful bands of the 80s and 90s.
But after differences with lead singer Axl Rose and other tensions within the band, Slash left Guns N 'Roses in 1996 in favor of his solo career. With Slash's Snakepit, he released two albums by 2001.
A year later he founded the super group "Velvet Revolver" with Stone Temple Pilots singer Scott Weiland, which has also released two albums so far and is still active.
In 2010 Slash released his first solo album called "Slash", which featured greats like Lemmy Kilmister, Iggy Pop and many more. In 2012 his second album "Apocalyptic Love" followed.
As a guitar he used many different Gibson Les Paul models in different colors and configurations.
Also interesting: The best guitar riffs of all time »
9. Jimmy Page
Jimmy Page, who became known as the founder, guitarist and producer of Led Zeppelin, was born in 1944 in Heston, England. He was voted third on the Rolling Stone 100 Greatest Guitarists of All Time. He was not only a gifted guitarist for Led Zeppelin, but also enjoyed great popularity as a studio musician. He could be heard on recordings by The Who, The Rolling Stones and Joe Cocker, among others. Soon he had to decide whether he wanted to continue working as a studio musician or finish his training at the art school in Sutton. The passionate painter and musician decided on music and soon after joined the band Yardbirds as a bassist.
He later became the group's lead guitarist together with Jeff Beck and after several changes of members they eventually became "The New Yardbirds". This formation, consisting of Jimmy Page, Robert Plant, John Paul Jones and John Bonham, became Led Zeppelin shortly afterwards. In 1980 Led Zeppelin broke up and he started some solo and collaboration projects. XYZ (Ex Yes Zeppelin), for example, was a collaboration between Chris Squire and Alan White from Yes and Jimmy Page as a so-called supergroup.
In 1994, Page also re-recorded a selection of Led Zeppelin songs with Robert Plant as part of the MTV Unplugged series. In the process, very different new versions of their pieces were created. They were supported by a Moroccan orchestra, which gave the new interpretations a completely different touch.
10. Stevie Ray Vaughan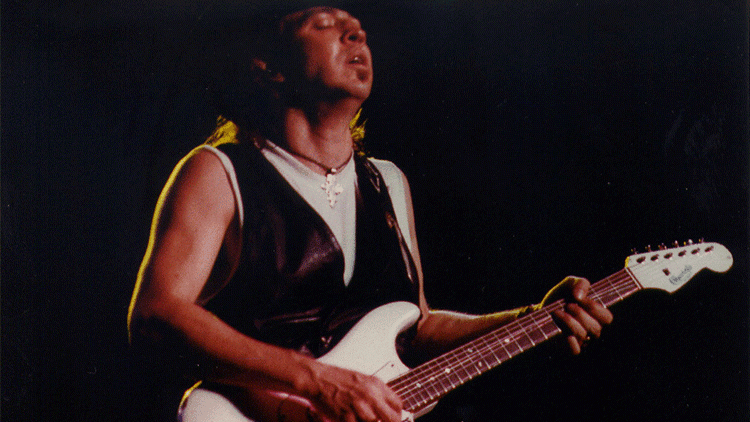 Stevie Ray Vaughan is one of the great guitarists despite being 10th. | Image: flickr.com | CC by 2.0
A native Texan, Stevie Ray Vaughan moved to Austin when he was 17 to follow his brother Jimmy. This influenced him a lot and it was through him that he got into playing the guitar in the first place.
In their new home there was not only the established country scene but also an up-and-coming new blues scene, which the brothers found great liking and were actively involved in. There Stevie Ray played in several blues and blues rock bands such as Blackbird and later Double Trouble. In 1982 he got a lot of attention for the first time when he was invited to the Montreux Jazz Festival and made his first breakthrough. David Bowie was taken with his band and wanted them to be the opening act for his big tour. Vaughan left the band while preparing for the tour to devote himself to his solo career.
In the early 80s he received an offer to make free studio recordings with Jackson Brown in order to record "Texas Flood" as his first album with Double Trouble. After he suffered some problems from his drug use and even had to cancel a tour in 1986, his very first album came in 1990, on which he was completely clean. With his follow-up work "In Step" he dealt with these problems and the difficult way to overcome addiction.
Shortly afterwards he worked on a joint album with his brother Jimmy. But before "Family Style" was supposed to be released, Stevie Ray Vaughan was killed in a helicopter crash along with three of Eric Clapton's tour members.
Seats 11-50 of the best guitarists of all time
11. Ritchie Blackmore
12. Steve Vai
13. John Frusciante
14. Paul Gilbert
15. Joe Satriani
Joe reached an out-of-court settlement with the band Coldplay in 2009. The accusation: Coldplay is said to have stolen the chord progression, dynamics and melody of "Viva La Vida" from Satriani's "If I Could Fly".

16. Jeff Beck
17. Frank Zappa
18. Tommy Bolin
19. Tom Morello
20. Brian May



May is not only a gifted guitarist, but also a committed animal and environmentalist. He also received an honorary doctorate for his work in the field of astronomy and holds the Order of Commander of the Order of the British Empire.
21. John Petrucci
22. Gary Moore
23. Joe Bonamassa
24. Rory Gallagher
25. Paco de Lucia
De Lucia is considered the grand master of the flamenco guitar. A must for every guitarist, even if the genre sounds strange at first.

26. Al Di Meola
27. Jack White
28. Tony Iommy
29. Neil Young

30. James Hetfield
Before Hetfield started playing guitar, he learned the piano and drummed on his brother's drums. Metallica's lyrics were entirely written by himself until 2003.



31. Randy Rhoads
32. Dimebag Darrell
33. Kirk Hammett
34. Chuck Berry
35. Carlos Santana
Carlos Santana and his band of the same name are considered to be the inventors of Latin rock. He has been on stage since 1965 and released his most successful album "Supernatural" in 1999 with over 19 million copies sold. His PRS Santana Signature has a shorter scale length of 24.5 inches than the usual models.


The PRS Santana Signature is available for just under 5000 euros.


36. John McLaughlin
37.Prince
38. Steve Morse
39. Pete Townshend
40. Kurt Cobain
Kurt Cobain was not only a great musician, he was also a gifted painter. In 2006, he was ranked # 1 of Forbes Magazine's Top Earning Dead. Kurt Cobain and his band Nirvana initiated the wedding of grunge in the 90s, which was also clearly reflected in fashion and zeitgeist. In the current documentary "Montage Of Heck", the executive producer is none other than his daughter Frances Bean Cobain.

41. Billy Gibbons
42. Les Paul
43. Zakk Wylde
44. Keith Richards
45. John Mayer
John Mayer was largely inspired by Stevie Ray Vaughan. So it's no wonder that his first own guitar was the matching signature model from Fender. In addition to his talent for beating the strings, he is best known as a singer and songwriter.

46. ​​Buckethead
47. Yngwie Malmsteen
48. Steve Stevens
49. Malcom Jones
50. Ry Cooder
Ryland Peter Cooder is a first class slide guitarist. His album "Bop Till You Drop" went down in history as the first digitally recorded rock album.
Not in the top 50 - and still special guitarists
The different tastes of different respondents and different lists naturally mean that some particular guitarists like to get lost in one or the other list. Also in this list there are some great artists that should not be underestimated and forgotten even though they are not in the top 50.
Duane Allman: King of the slide guitar
Duane Allman, for example, even ranks ninth on the Rolling Stone list. He and his brother Gregg, who celebrated great success with their self-founded band "The Allman Brothers", recorded a total of four albums together.
Unfortunately, the gifted guitarist and songwriter Duane Allman died at the age of just 24 in a motorcycle accident.
Among other things, he was known for his special way of playing slides on the electric guitar. For this reason there are still numerous video tutorials and attempts to learn and imitate his style and technique with guitar slides.
Chet Atkins: Mr.Guitar
Chester Burton Atkins, also known as "Chet Atkins" for short, also known as "Mr. Guitar "was also a very influential guitarist.
He played country music and his talent was particularly in the way of playing fingerstyle guitar. He also performed with the likes of Mark Knopfler and Tommy Emmanuelle, who viewed him as a great role model from early childhood.
George Harrison: Just the 3rd Beatle?
George Harrison, he was not only the third member of the Beatles behind Paul Mc Cartney and John Lennon, but also a very good composer and guitar player himself.
In addition, he played an important role in the development of the new genre of "world music", since in addition to the guitar he also liked to use oriental instruments such as the sitar from India in his music.
So there are all sorts of guitarists who all have their own particular merits and have certain techniques or playing styles. And there is certainly a lot more undiscovered talent on this planet. Also, everyone has their own opinion of who is the best guitarist of all time and this question will probably stay open forever.
The best guitarists - your number 51-100:
51. Orianthi
52. Andy Summers
53. The Edge
54. Bruce Springsteen
55. Pat Metheny
Pat Metheny is considered one of the most successful and influential jazz guitarists, winning a competition sponsored by Downbeat at the age of 14. In the meantime, a total of 20 Grammys have passed into his possession.

56. Bonnie Raitt
57. Muddy Waters
58. Jennifer Batten
59. Susan Tedeschi
60. Duane Allman
61. Mike Oldfield
62. Billy Joe Armstrong
63. Sister Rosetta Tharpe
64. Dave Grohl
65. Jack Black
Jack Black is world famous mainly as an actor. The singer and guitarist of the band Tenacious D even came in at 65, ahead of Ron Wood and Johnny Cash. Hats off. Tenacious D was the opening act for System Of A Down and recorded their album "Ryze of the Fenix" in the garage for a budget of 600 US dollars.
66. George Harrison
67. Thursten Moore
68. Chris Spedding
69. Memphis Minnie
70. Buddy Guy
71. Joe Perry
72. Joan Jett
73. Steve Rothery
74. Ace Frehley
75. Johnny Cash
Johnny Cash is a true country legend. He wrote over 500 songs in his life, got an "audience" with President Nixon and his songs even made it into the mainstream pop charts. Pure rock'n'roll. Particularly interesting: in 1994 Rick Rubin offered him a record deal. At that time Rubin also produced the Beastie Boys and Slayer and recorded a living room tape with Cash, on which he only sings and plays guitar himself.
76. Joni Mitchell
77. Cat Stevens
78. Jason Barwick
79. Dick Dale
80. Ron Wood
81. Jonny Greenwood
82. Eric Johnson
83. Johnny Ramone
84. Mike Bloomfield
85. Elmore James
Elmore James is one of the most influential Chicago blues slide guitarists along with Muddy Waters. His fans include Eric Clapton, Keith Richards and Jimmi Hendrix. Especially his powerful voice and its timbre made him known.
86. Alex Lifeson
87. Mick Ronson
88. Bo Diddley
89. Robert Johnson
90. Derek Trucks
91. Steve Hackett
92. Eddie Cochrane
93. Peggy "Lady Bo" Jones
94. Nancy Wilson
95. Dave Edmunds
Dave Edmunds was the front man of the blues band Love Sculpture and just got into rock'n'roll. In 1970 he landed his first and only number 1 hit "I Hear You Knocking".
96. Chrissie Hynde
97. Michael Hedges
98. Rory Block
99. Donald Roeser
100. Link Wray
But what do you say
It has already been voted on, but it is still a question that has a lot of potential for discussion. Do you think the list is justified? Which guitarist has surprised you the most so far and which placement would you have given? We look forward to your comment.