What is the Snapchats Strategy
Is there such a thing as one Snapchat marketing strategy?
And there it is again: Another contribution to this unstoppable Snapchat phenomenon. As if the web wasn't already filled enough with smart top-secret advice, how-to articles and 10 tips for successful Snapchat marketing. As digital specialists, of course, we cannot completely avoid this medium. That is why we have dealt with the specialty of "Snapchat" and put together what is really important from a marketing point of view.
Snapchat is everywhere
Snapchat has now emerged as the current favorite toy in the wide realm of social apps. Snapchat is now what the live tickers were in the 2000s. The Snapchat generation is just growing up - a formative development that Nintendo or MSN once had for an entire generation. In order not to be labeled as boring or old-fashioned, companies should also present their content in a similar way in the future.
The "Wall Street Journal" has already discussed in an article that Snapchat marketing can work successfully. Accordingly, a look at the USA, where more than 40 percent of people up to 35 years of age are reached via Snapchat, shows the enormous relevance of this form of communication.
How to Snap
Snapchat marketing is mainly operated successfully by the big players. The best example: the Taco Bell filter. For the funny filter, where a giant taco appears instead of the user's head instead of the selfie, Taco Bell has put a lot down for it. According to the Wall Street Journal article, sponsored lenses cost around US $ 450,000 to US $ 750,000 per day. However, this function is also the most playful, interactive and most expensive form of advertising on Snapchat.
Another function that is particularly interesting for location-based advertising is the sponsored geofilter, where users can pimp their videos and images with a brand-specific message. These on-demand geofilters are currently only available in the USA, Canada and UK, but it will certainly not be long before they hit Germany. They are not only interesting for private individuals, but also for businesses. You can easily create your own design, specify the desired geofence and time period and after a quick check by Snapchat, your own filter can go online for up to 30 days. Community geofilters (filters without a brand message or the like) are free, on-demand filters cost from $ 5 depending on the size of the geofence and duration.*1
Even without your own Snapchat activities, such filters are interesting in order to reach the young Snapchat-affine target group. A good example of this would be a geofilter for the opening of a new café in Berlin within a radius of two kilometers. Every user who posts a snap with the filter in their story and shows it at the checkout receives a free coffee.
Snap Ads & Discover area
The Discover area on Snapchat is also exciting for companies. Whether you want to follow relationship tips, fashion trends or breaking news: there is now the right channel on Snapchat for almost every interest. With Discover, mobile messages are placed directly in the life of the user in an appealing, funny and visually creative way. Here, Snapchat offers a professional media feature for publishing digital magazine content and is clearly aimed at high-turnover publishers and entertainment businesses. The length of stay of the users is increased and thus also the interest of the advertisers.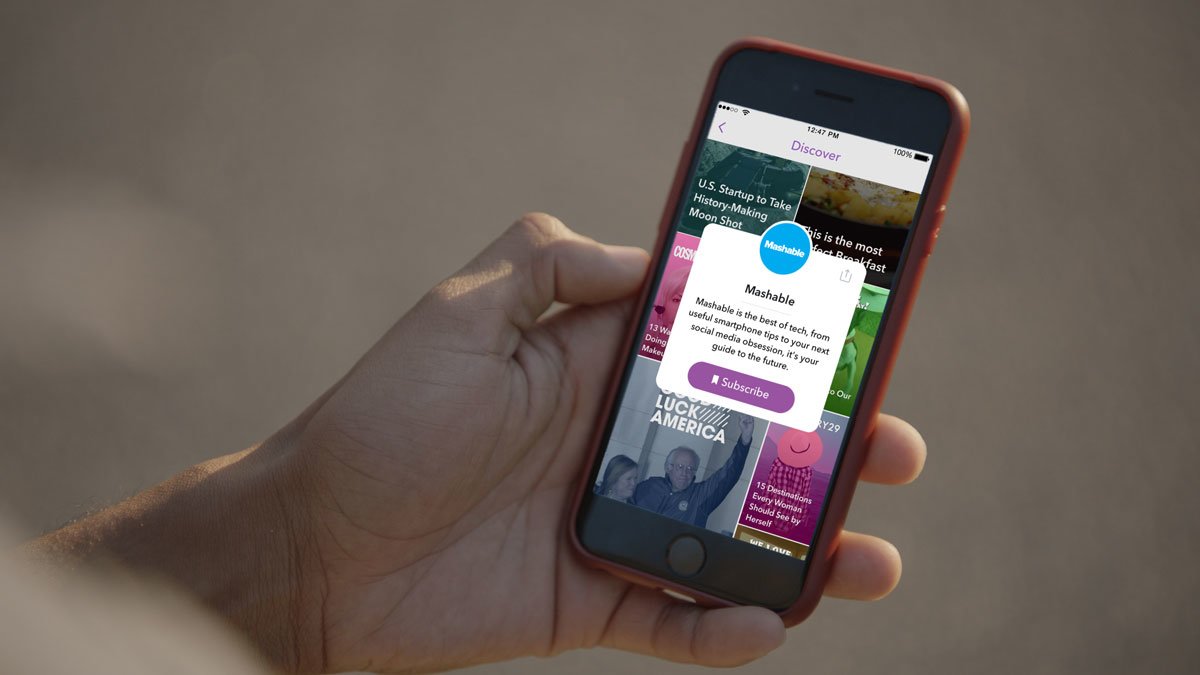 Not yet on the market in Germany, but already widespread in the USA: Snap Ads. Advertisers can place 10-second videos between the stories of friends and in the Discover area. If the ad is particularly appealing, the user can be redirected to other content - videos, articles, pictures, etc. by swiping up (as is common on Snapchat). According to Snapchat, the rate of users swiping up is 5x higher than the average click-through of similar advertising content on other platforms.*2 The price range varies between $ 40-60 per CPM between user stories and around $ 100 per CPM in the Discover area.*3
Goodbye dear Snapchat short-term memory
Recently, Snapchat introduced the Memories function, with which Snaps can now be saved permanently in the Snapchat profile. This feature, which initially appears to be anti-snapping, results from the fact that so many users have saved snaps in their gallery and then re-posted them on other social media channels. In order to enable users to ensure that their creative snapshots are not forgotten forever, you can now simply save your snaps directly there without having to download them and distribute them on other channels. For brands and companies, Memories is interesting because now ready-made images and videos can be snapped from the gallery. A lot of effort is not lost within a day and the community can be permanently entertained. Seems a bit like Instagram, but it's a really appealing marketing tool for companies.
Even the time at which the snapping takes place is of great relevance. Since the main users of Snapchat (around 70%) are younger than 25 years old,*4,5 it can therefore be assumed that these are mainly active in the morning hours on their social media channels. Schoolchildren and students like to look at the stories of their contacts before getting up, during breaks in court or in a not-too-exciting lecture. At these times, the main user group is above all active and directly accessible - almost in real time and most authentically.
Snapchat in Germany
Snapchat has become a constant topic on other social media platforms, at conferences and on blogs. In Germany, however, hardly any company has strategically included Snapchat in its means of communication. Compared to Facebook or YouTube, the production of content on Snapchat and the ultimate relevance for the company are still too imbalanced. In addition, there is still a lack of transparency, reach and increased forms of access to users. Companies and brands in Germany should revise their social media presence to make it snapchat-friendly, because the Snapchat hype doesn't stop there. It therefore remains to be seen whether the perfect Snapchat marketing strategy will exist. Storytelling remains the be-all and end-all with Snapchat. The greatest opportunity lies above all in a combination of the unique online marketing app functions with which the users are actively involved.