How competitive are applications for graduate schools?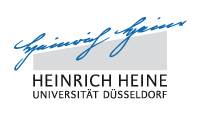 ---
---
24.09.2015 10:40
New Jürgen Manchot Graduate School: "Competitiveness of Young Companies" (WEJU)
Carolin Grape Communication department
Heinrich-Heine-University Dusseldorf
The Jürgen Manchot Foundation is funding a graduate school at the economics faculty of the HHU with a total volume of up to 830,000 euros.
The graduate school researches how young companies can become competitive and how they can become market leaders in competition with established companies. The aim is to empirically examine the central design areas of young companies and to develop evidence-based recommendations for action for founders or start-ups.

In order to research the competitiveness of young companies, it is necessary to go beyond the boundaries of sub-disciplines of business administration. For this purpose, the scholarship holders work on ten dissertation projects that analyze the challenges faced by young companies, particularly at the interfaces between the three business areas (1) personnel and organization, (2) financing and controlling, and (3) market and strategy. In addition, interdisciplinary projects are implemented from the perspective of economics or psychology.

The graduate school comprises a structured, three-year doctoral program that guarantees excellent academic and practical training. The graduate school's speakers are Univ.-Prof. Dr. Eva Lutz, Riesner Endowed Professorship for Entrepreneurship, especially start-up and growth financing and Univ.-Prof. Dr. Stefan Süß, Chair of Business Administration, especially Organization and Personnel.

The graduate school will start in spring 2016 with up to ten doctoral scholarships. Applications for scholarships are now possible.
---
Additional Information:
http://www.jmg-weju.hhu.de

---
---
Features of this press release:
Journalists
economy
supraregional
Research projects, scientific training
German
---