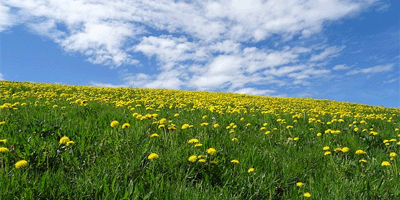 The spring, sometimes also called spring, is the season between winter and summer. In the northern hemisphere the months of March, April and May fall in the meteorological spring, while in the southern hemisphere the months of September, October and November are in the meteorological spring.

With the beginning of spring, nature, both plants and many animal species, awakens from their winter dormancy. Squirrels, badgers, moles, beavers, brown bears, hedgehogs, marmots or bats are slowly starting to become active. Migratory birds keep returning from warmer areas.

The days get longer again in spring, the nights get shorter. The sunlight causes the first buds to sprout and soon afterwards also bloom. As early bloomers, snowdrops and crocuses are usually the first signs of spring. Mild temperatures and more sunlight also have a noticeable effect on people. Sunlight leads to an increased release of serotonin, a neurotransmitter and hormone in our brain and body. Serotonin creates a feeling of wellbeing in us.

But spring is not all positive. The time of allergy sufferers also begins in spring. Alder, elm, ash, poplar, willow and birch already release pollen in the spring months and can cause allergic reactions.