What is "PAT - Learning with Parents"?
"Parents as Teachers" originated in the USA in the early 1980s. The home visit program for early childhood support and parenting education has been continuously developed and its effectiveness has been proven in several studies. For 15 years, «PAT – Learning with parents»Implemented in German-speaking countries and meets all criteria for effective early intervention programs *:
Tailored to families in particular stressful situations
Early start, even before the birth
Intensive and long-term: several contacts per month over several years
Multi-component approach: home-based and center-based, advice / education for parents, care / support for children, as well as everyday aids
High qualification of the staff
* Neuhauser, A. & Lanfranchi, A. (2014). Implementation matters: Efficacy of early childhood education in stressed families.
The four program elements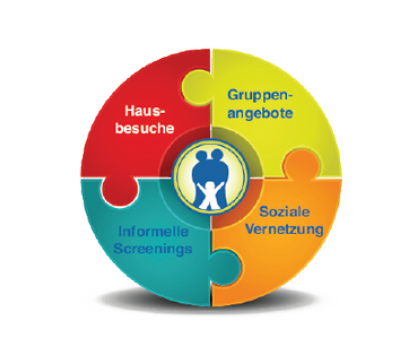 home visits
Certified parent trainers visit the family one to four times a month, usually every two weeks. If necessary, intercultural interpreters are called in. Each visit consists of the following elements:
Entry: dealing with the topics and objectives of the last visit
Parent-child interaction: Introducing and guiding a game, a language-promoting book activity combined with joint observation of development
Development-oriented parenting behavior: relate the child's level of development and behavior to one another - discuss appropriate parenting behavior
Wellbeing of the family: Discussion of current concerns and issues of the parents on the living conditions and the health of the whole family
Conclusion: summary, evaluation, agreement of the next steps and ritual
Group offers
In communities with five or more families accompanied, a guided group meeting is held every month. It is open to all families in the community with children aged 0-3. In addition to thematic focal points on educational or development issues, the main focus is on networking, exchanging ideas between parents and playing together. Children have their first experiences in a group.
In communities without a zeppelin group meeting, the families are networked in the closest suitable group offer.
Building social networks
The parent trainer supports the families in using other services and offers in the community of residence, such as library, family centers, parent meetings and other specialist centers.
Development observation / health survey
The parent trainer observes the child's level of development and health together with the parents during home visits. She regularly records the observations and assesses them with the help of standardized instruments. Any deviations can be recognized early and the parents can be supported in finding a suitable specialist.