Benefit from synergies: How to use PPC data for SEO - and vice versa
Marketers usually view the various marketing platforms and channels in isolation. They see SEO as separate from social media, and even more so from PPC advertising.
That is not necessarily wrong, but it is also not entirely correct. SEO and PPC campaigns can be closely related. And even if they work independently and independently of each other, the data from your PPC campaigns can help improve your SEO results - and vice versa.
The right approach is crucial. There is some overlap, but there are also important differences to note. In this article, we'll show you step-by-step how to identify the data that will drive you forward in both marketing channels. You will also receive valuable tips from leading experts in this field.

Upgrade keyword lists - for SEO and PPC
Keywords play a crucial role in SEO as well as in PPC ads like Google Ads and Bing Ads. Although you should do the first keyword research separately, you can benefit from using your experience from ongoing campaigns to fine-tune the organic or paid counterpart.
For example, you can use the data from your advertising campaigns to determine the most profitable keywords in your SEO campaigns. Obviously, these keywords are capable of attracting high quality customers who generate sales. So, consider letting them play a bigger role in your organic SEO strategy.
Use SEMrush's Position Tracking to track your ranks for new sets of keywords on a daily basis. You can set targeting to track your position in specific geographic locations and on different types of devices, including cell phones, tablets, and desktops.

Rob Watson, CEO and founder of Freewheeling, explains it aptly:
Knowing which keywords convert prospects into customers is valuable - regardless of whether these keywords come from SEO, Google Ads, Bing Ads or Google Shopping. That hardly makes a difference. The more we use the data from all channels, the better. That's why I always welcome SEO teams to provide feedback on what works well for them.
Conversely, the same will be true for your SEO campaigns. Find powerful keywords that are driving traffic to your website and consider optimizing your PPC campaigns on these keywords.
Likewise, it makes sense to look at keywords that you have a tough time competing with but that you think might be valuable. Use PPC to create visibility for these keywords.
At this point, you can use Google Analytics to find out which keywords are bringing valuable traffic to your website.
You can find the corresponding report under "Acquisition", then "Campaigns" and then "Organic Keywords".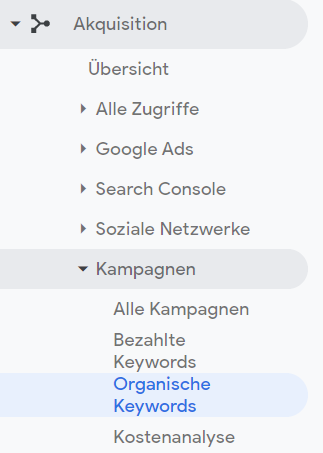 Gary Spagnoli, founder of Zen Anchor, explained how his team benefits from this opportunity:
Our SEO team works closely with the PPC team throughout the customer process. The SEO specialists regularly identify keywords that bring high-conversion organic traffic and can also be tested in the PPC area. Occasionally it also works the other way, but mostly SEO is the driving force.
Finally, dive into competitive research. In SEMrush's Keyword Gap you can see the keywords that your competitors use to structure your SEO and PPC campaigns.
Identify which organic keywords your competitors are using, and see if and how they both benefit from those keywords in comparison.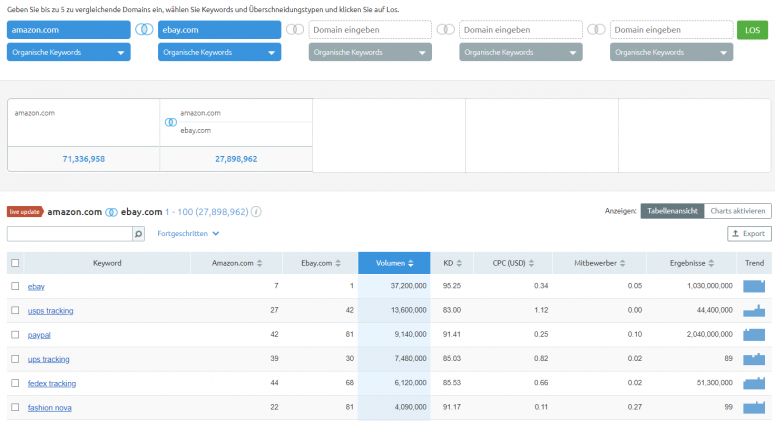 Aside from keywords in organic search, you can also keep an eye out for search terms that your competitors are using for paid ads. Think about whether it is worth including these keywords in your own campaigns. At the same time, you will receive information on what costs are to be expected and reasonable.
If you want to find out for which keywords your competitors are visible in the organic search and at the same time place ads, Keyword Gap is once again the tool of choice. Enter your competitor's domain twice and select "Organic Keywords" once, "Paid Keywords" and the "Common Keywords" setting. In this way, you can find out which keywords your competitor is prioritizing and test them in your own campaigns.
Tip: Apply advanced filters to organic positions to get keywords that your competitor will use to appear on the first page of search results (example: Include -> mitbewerber-domain.de -> Less than 11).
Craig Campbell, SEO Trainer & Consultant at Craig Campbell SEO, explains why competitive research (and most importantly, finding the competition's keywords and competitor backlinks) can be so valuable:
For example, you can evaluate the organic rankings of a provider and use the keywords for a Google Ads campaign. It's a popular way to use the data to get one foot on the ground with a paid campaign online. Conversely, you can also evaluate good advertising campaigns from competitors and target the same keywords organically. The use of this data is crucial for the marketing strategy in both cases. Some providers mainly rely on PPC and invest a lot of money to find out the best keywords. It's worth using these keywords for an organic campaign. Research and competitor analysis based on the organic or paid rankings helps to develop a campaign that will grow your online business.

Protect your brand - or attack competitors
Brand keywords are a double-edged thing. If you optimize on your own brand names, you forego chances of reaching new audiences who have not yet heard of you. On the other hand, you don't want to risk that someone else will snatch these keywords from under your nose.
From the other perspective, you can bid on your competitor's brand keywords and thus use their brand awareness to your advantage. This is mainly possible through PPC campaigns.
So you can use branded keywords to protect your own brand or attack competitors, but you have to be careful when doing this.
PPC can be a valuable addition to SEO when it comes to (your own and third-party) brand keywords. First, however, carefully calculate whether it is more worthwhile to hunt down competitor brands or to protect your own brand.
To bid or not to bid on your own brand keywords - that is the question here. And unlike Shakespeare, we know the answer.
Use these steps as a guide:
Take a closer look at your click rates and conversions. How much do you have to lose if you don't bid on your own brand names? Do users search for it frequently and is it a relatively low cost? There's no point in investing a large budget if prospects can find you organically with these keywords. But at low costs, it can still be worth bidding so that your competitors don't dispute any of these clicks.

Screenshot of theSEMrush ad research

Explore the competition for your branded keywords, either manually or with ad research. Type your competitor's name into search and use advanced filters to see if they are bidding on your branded keywords.

If your competitors are serious about your brand keywords, so should you so that others don't benefit from your brand awareness.
Keep the digital sales funnel in mind as you make this decision. In the words of Nadya Birca, co-founder of STEPP Digital:
If your brand is known offline and online, it can be argued about whether it makes sense to organically bid on your own branding keywords. But if your brand relies on generating demand, PPC and SEO need to go hand in hand on non-branded keywords throughout the funnel. The success metrics should differ here at each funnel level, i.e. performance should be measured differently in the upper funnel than in the lower one.
And now to the second part of the equation: Is it worth bidding on competitor brands?
Evaluate search volume and competition density for the brand keywords of your competitors and decide on this basis whether the investment is worthwhile. For example, here you can see that SimpliSafe has prioritized competitor keywords like "ring doorbell". There are enough potential customers looking for a certain product that it is worthwhile to attract these customers by bidding on appropriate keywords.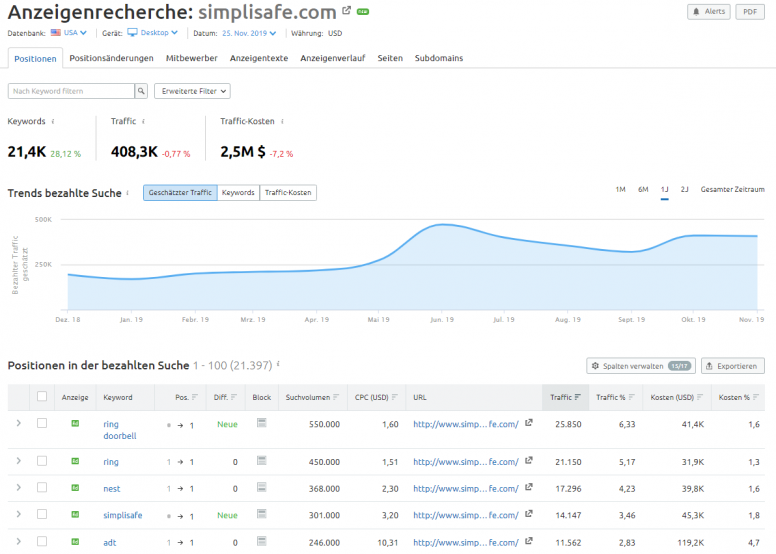 Although bidding on competitor brands is accepted in practice, some experts speak out against it. Richard Falconer, Managing Director at Yard, is one of them:
Avoid bidding on competitor brands. Brand hijacking is accepted, but some users find it misleading or annoying. If you do a brand search, you don't expect to end up with a competitor. As a tactic, brand hijacking can be effective, but it disrupts the normal flow of web searches and is likely to be misleading.

Strengthen your local presence
Do you want to reach local target groups? This is not easy, because achieving good organic visibility in the Local Pack takes time.
Patience is a virtue in organic search marketing, but waiting for better rankings is frustrating while watching you miss out on countless sales.
PPC offers a valuable antidote to this situation, especially after Google launched local campaigns. These enable you to advertise your business in Google Maps and on YouTube as well as in the Google search and display network. With paid ads, you no longer have to wait in line and, thanks to your investment, you immediately get high visibility and a remarkable reach across several prominent platforms.
Halide Ebcinoglu, Atom Ant & Search Rockstar at Kubix Digital, used this strategy to drive traffic to nearly 50 car dealerships in Turkey. This is how she explained her approach to us:
When running our local campaigns, we bid on location-based keywords like "KIA Istanbul" and used geotargeting to increase bids by 20% within a 20-kilometer radius of KIA dealers. We also used location expansions to Have the address of the nearest retailer appear as part of the ad. The new Google ad type "Local Campaign" has allowed us to place the brand at the retailer's locations on Google Maps, along with special offers and notifications of new models When they click on the KIA logo, consumers see a call to action asking them to call the nearest dealer or get directions, knowing that the new campaign will increase interactions in Google Maps and Local Packs we corrected and updated all the dealers' Google My Business profiles in advance so that visitors received a positive impression and everyone was looking for Information found.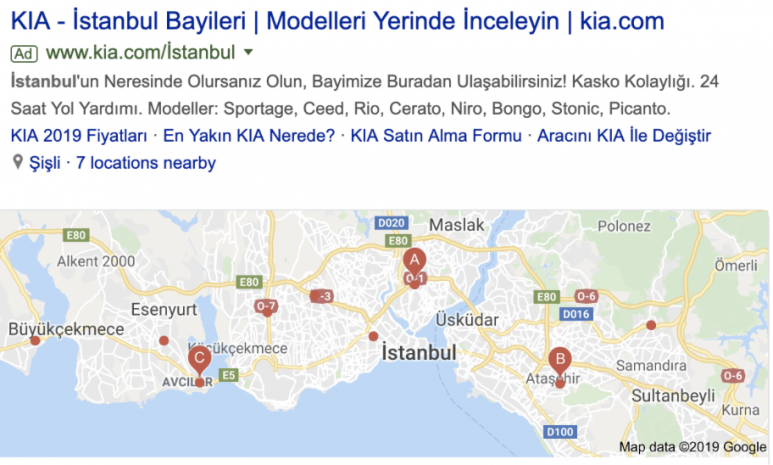 With our integrated local strategy, we were able to increase the number of visits to dealers by 105% year on year. Google's local campaign alone generated around 1500 dealer visits. The strategy also increased the number of test drive and appointment requests submitted online by 270%.
Conclusion
When you develop your campaigns based on carefully researched hard data, you can take advantage of both search engine optimization and ads to their full potential. You increase your success in both channels without resorting to cheap tricks or "growth hacks" that can cause consumers to lose trust in your brand.
Although SEO and PPC exist as separate marketing channels, you can unleash great synergies by using your data from each of the two channels to your advantage in the other.