Let's do enough for Puerto Rico
A lack of help for Puerto Rico turns into a disaster for Donald Trump
As is so often the case, the US president reacted contemptuously and condescendingly to criticism. In a series of tweets, Donald Trump wrote of "weak leadership in the mayoress of San Juan and others in Puerto Rico" who had failed to mobilize their own workers to help. The devastation of the Caribbean island by Hurricane Maria has sparked an open dispute with the president over Washington's aid and his role in it.
Mayor Carmen Yulín Cruz urged Trump on Friday to do more to ensure that aid supplies arriving in Puerto Rico also reach the people affected. "We are dying here and you are killing us with inefficiency and bureaucracy," said Yulín Cruz in her fiery appeal to Trump. "I've had enough of being polite (...). I'm mad as hell."
Fail like Bush?
Trump's involvement after the disasters in Florida and the Caribbean was also called into question from within his own party. Republicans demanded "leadership" and recalled Trump predecessor George W. Bush, who was accused of failure in the 2005 monster hurricane "Katrina". Bush had been accused of showing no real concern for the victims.
Just Trump vs. NFL?
Critics recently accused Trump of using his full energy in the dispute with the National Football League (NFL) over the US anthem and national loyalty, but apparently forgot to support the victims of the disaster and the necessary reconstruction.
In the Puerto Rico case, Trump got back into insults and savage polemics. Among other things, he claimed that the Democrats apparently told Yulín Cruz that she "must be mean to Trump". "They want everything to be done for them, even though it should be a community effort," tweeted Trump from his New Jersey golf club.
After all, the government has already sent 10,000 helpers, and they are "doing a fantastic job," said the President, euphoric as usual. As is so often the case, he also accused the US "media of lies" of disparaging Washington aid.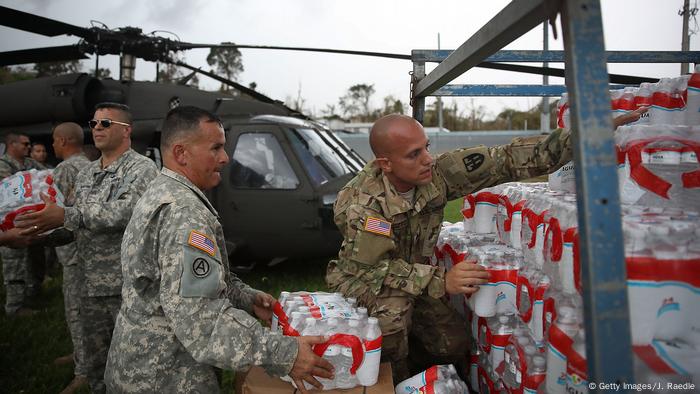 Puerto Rican National Guards transfer water and food into helicopters
The Caribbean island was hit directly by "Maria" on September 20th and was badly devastated. Most people are still without an electricity supply, there is a lack of food, drinking water and petrol. The Trump administration had accelerated its aid to the U.S. outer territory this week after it was accused of not doing enough for those in need. Apparently, however, many aid supplies are stuck in containers after arrival and are not being transported on to the people affected, especially in more remote areas - partly because of a lack of petrol and damaged roads.
SC / uh (APE, rtr, dpa)