Jette on the fascination of football: Because it is fun to overcome limits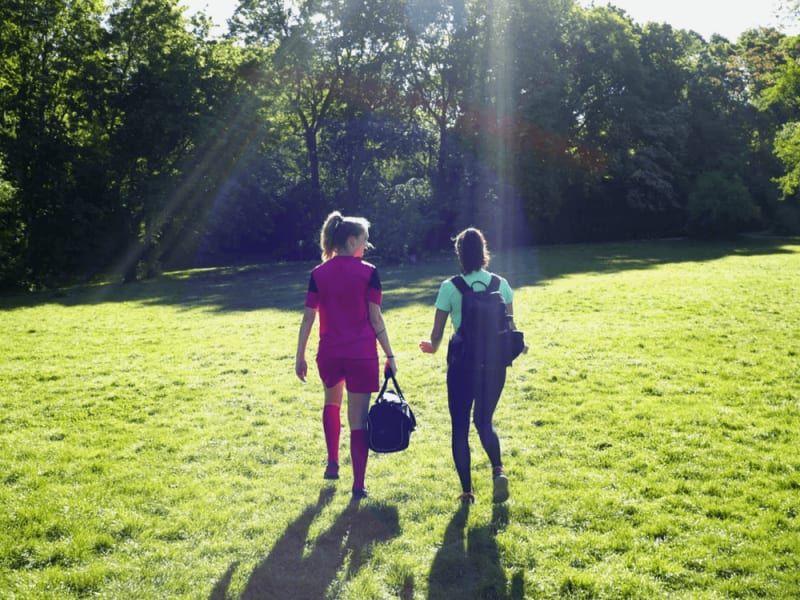 Jette supports us in the YAS.life team as a working student in the key account area. What is Jette doing there? For example, she takes care of the great prizes for our challenges - for your extra athletic motivation. Jette knows a lot about motivation and sport: Jette discovered soccer at an early age. Even today, 16 years later, she still plays with her team three times a week. We talked to Jette about her passion for football and got some interesting insights for you ... ;-)
Hello Jette, you have been playing football for 16 years - how did you discover this sport for yourself?
I was watching a soccer game with my cousin because my uncle was playing. We were both immediately enthusiastic and signed up for a club. I don't think I would have dared to go alone, but since my cousin was also very enthusiastic, we didn't hesitate for long. It was really cool to have a common hobby with my cousin!
The great thing was that my parents supported me from the start! :-)
That sounds really great! Above all, that you discovered football for yourself through your uncle and found something that you still enjoy today! What is it that fascinates you about playing football?
I always like the games best! They have something dynamic, fast and, above all, exciting. Football in particular is about working towards a common goal as a team. We push each other and know we're there for each other - no matter how the game ends. When we are successful, we celebrate it together. This is something completely different than when you are happy about something that you have achieved on your own.
Yes, I can imagine! Does that mean that the social framework also played a major role for you?
Definitely! Because I always told my friends about it, at some point we were so many football-mad girls that we founded our own team. It was really great to go to the training field with my friends after school and just play!
When you were 12 you switched to a sports school. How was that for you back then?
It was definitely great to have soccer practice so often and the people were really nice. However, there was a bit of pressure associated with it - after all, it was also about getting better and better. Before I switched schools, I was always one of the best on my team. At the sports school, however, it was different because my classmates took training much more seriously than I did. My group of girls and I had actually always played just for fun - we didn't really think about going in this direction later, perhaps professionally.
If that had been my goal, I would have had to switch to a better team, but at that point it was more important to me to stay in my familiar surroundings.
How do you feel about it today?
It used to be hard for me not to be among the best. I also went to two training sessions where talent coaches watched. But it shouldn't be. I was a little sad then. But today I think that it probably wouldn't have been right for me either.
I have a lot more fun with football when the pressure to perform is not in the back of my mind, but when I play it just for the fun of it.
What did you take with you from this time?
The time has definitely shaped me a lot and I am grateful for all the experiences! Without this time I would be a completely different person today. It showed me that you should always stay tuned, even when things don't go as desired. Nevertheless, I still love playing football today. And just because I didn't become a professional footballer doesn't mean I'm not good at other things. I think you should always keep in mind that you don't overestimate setbacks and still remain positive.
YAS! That's a wonderful attitude! For whom do you think football is suitable?
For everyone who wants to reach their limits and at the same time wants to have a lot of fun! ;-)
Thank you, Jette!
Author: Beatrice Weiß
Image source: Yas.life