How does Minecraft Earth work
Smartphone offshoot Minecraft Earth will be ended instead of finally published
Minecraft Earth was a little different from the main program.
Minecraft Earth combined the popular Minecraft gameplay with augmented reality elements - such as those known from Pokémon Go. However, the project is now coming to an early end: Developer Mojang announced the end of the title for June 2021.
How long has the game been around? This ends Minecraft Earth before it was even allowed to experience its own full release. The game has been in an early access phase since October 17, 2019 and has therefore not yet been officially released.
How does Minecraft Earth end?
Corona not innocent of the end: The studio explains in the developer blog that the corona crisis hit the game heavily. Because Minecraft Earth focuses on the fact that you move in the world and interact with other players. Both things that are currently only possible to a limited extent. And unlike Pokémon Go, the game principle could not be easily converted to playing from home.
For these reasons, the team felt it made sense to use their resources elsewhere and provide support to be completely discontinued on June 30, 2021. As a farewell, however, there is one last update. That changes the following:
Removes all microtransactions
Dramatically reduces ruby ​​costs
Release of all already completed content that has not yet been published
Reduced crafting and melting time
Replaces unused craft & melting boosts with radius boosts of the same level
Gives all players a set of character creator items
This is the end: As of June 30th, it will no longer be possible to download or play the game. Finally, on July 1st, all player data will be deleted. Your rubies will also be converted into Minecoins, which you can spend in the Minecraft Marketplace. And every player who made a microtransaction will receive a copy of the Bedrock edition of Minecraft.
What else you can play on your smartphone
If you are looking for an alternative way to pass the time with your smartphone, you can take a look at our list of PC games that have been ported to mobile phones. Diablo Immortal is also in the starting blocks in 2021. We have already been able to play a rehearsal and give you concrete first impressions in our preview of the smartphone offshoot.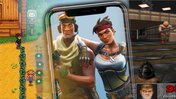 141 11
The development of the "big" Minecraft - which is also available for smartphones by the way - continues undisturbed. It only received a major update last year that spruced up the graphics with ray tracing effects.
to the comments (14)