Which degree is required for computer technology
Computer technology - service and repair
 
Computer service technician is currently not an apprenticeship. Usually such technicians were trained earlier by the manufacturers. Some of this still happens today. In the meantime, however, there are numerous manufacturers, importers or wholesalers of z. B. No-name products that no longer offer any technician training. As a result of the enormous increase in PCs in all areas of the economy and also in the private sector, the number of well-trained technicians is no longer in proportion to the number of computers used. Qualified computer technicians are wanted!
Anyone interested in modern technology can acquire the qualification computer technician via distance learning.
Who is the computer technology course aimed at?
Distance learning is intended to remedy the existing shortage of computer technicians and is aimed at
anyone who wants to become a computer service technician and who wants to make money repairing, configuring, and installing PCs and peripherals.
PC dealers, software and system houses.
Specialist salespeople in the computer trade who want to improve their service, increase their range of services and provide their customers with qualified advice.
All kinds of companies and companies that use computers and want to ensure maintenance and uptime, as well as the short-term elimination of malfunctions and failures by training their employees.
Specialists in related professions, such as B. telecommunications, television technology, electronics, radio measurement technology, control technology, etc., who want to continue their education and acquire special knowledge of computer technology.
Skilled workers, white-collar workers and other employees in companies who, by increasing their qualifications, are striving for a higher level of appreciation at their place of work and income, or who want to improve their chances on the labor market in general.
Training objective: Service technician for personal computers and peripherals
The training goals in detail
Acquisition of extensive knowledge of modern computer technology and a deeper understanding of the structure and operation of computers
Acquisition of basic knowledge in order to keep pace with future developments in technology
Acquisition of knowledge and skills to assess error situations in personal computers and peripheral devices and to be able to correct them in practice
Acquisition of knowledge and skills in order to be able to assess and select personal computers, peripherals, accessories and programs taking into account given requirements for operation in practice and according to the requirements of reliability. This also includes knowledge of professional installation and the ability to organize largely trouble-free operation and quick troubleshooting
Previous knowledge
The course provides the knowledge that a service technician needs for personal computers and peripheral devices. In order to be able to participate successfully in the correspondence course, no special previous knowledge is required. The secondary school leaving certificate is sufficient. Knowledge and skills in the field of electronics and basic knowledge of using the PC are an advantage.

What else should you bring with you? Common sense. Interest and open-mindedness towards new technologies and not exactly "two left hands".
Do you already have previous knowledge? Shortened distance learning!
Participants with good prior knowledge of the subject can shorten the course.
However, the knowledge must be proven in a short written entrance examination. The conditions and tasks for this exam can be found here: Prior knowledge test for advanced learners. We will be happy to send you the prior knowledge test on request.
Duration and scope
The course lasts 18 months with a weekly learning and practice time of around 10 to 12 hours. You can shorten the duration of your studies if you have more time available.
The complete teaching material consists of:
18 lesson units, approx. 1,800 pages

6 booklets, approx. 1,900 pages
1 Equipment overview

Troubleshooting guide
Troubleshooting, detection and elimination, approx. 1,000 pages

Each lesson is completed by a series of tasks, the solutions of which should be sent in for correction and assessment.



The lesson units are also available as e-books for this course.
The course material also includes diagnostic software and hardware, which will also be useful in later use.
Degree and certificate
This distance learning course has been checked by the State Central Agency for Distance Learning (ZFU) and approved under number 643694.

This ensures that the course meets the latest requirements and that you as a participant can achieve the specified training objective.

When you have worked through the last lesson of your course, you can take a final exam and show that you really have mastered what you have learned. You will be given tasks from the entire range of topics of the course.

Depending on the results of the final examination and taking into account the grades given for the homework, you will then be issued the specialist course certificate from the Fernschule Weber, which serves as evidence of performance and advanced training.
Certificates from our distance learning school are recognized in business, industry and the general public as a qualification from a well-known private distance learning institute.
The diploma shows your knowledge and proves your ability to work independently and purposefully.
curriculum
The course not only teaches theoretical basics, but also does not neglect repair and service practice. This is not just about the PC in all its variants, but also about peripherals from printers and monitors to CD-ROM and DVD systems.

However, before you can start maintaining and servicing PCs and peripheral devices, you must - as in any other subject - first acquire basic knowledge. Therefore, the theoretical basics are in the foreground in the first lesson units.
With this course - so far the only one of its kind in the German-speaking area - we want to offer a level that is absolutely comparable to vocational training (e.g. television technician, industrial electronics technician, etc.). On the other hand, we want to do justice to the various interests. One may want to look after PC installations, but by no means measure everything in the hardware more precisely. Another, however, is currently interested and sees tricky repairs as a good business opportunity.
Our goal: To provide a lot of information so that you have a basis for selecting and assessing and are well equipped for maintenance and service. In addition, we want to offer you a teaching and reference work that cannot be bought in this level of detail. It is precisely tailored to PC technology and contains the latest data material as well as a large number of practical information.
For a precise overview, we have compiled the tables of contents of the individual lesson units, the extensive accompanying booklet, the equipment overview and the troubleshooting manual here as a PDF file:

Tables of contents of the lesson units and the accompanying material.

Trial lesson
Our trial lesson of this training will show you how the course you are interested in
is constructed
how the teaching material is designed
practically carried out
what goal you can achieve
Here you can leaf through our trial lesson. It contains excerpts from Lessons 1, 2, 4, 5 and the first part of the troubleshooting guide:

Trial lesson computer technology - service and repair.
Course fees and registration
Affordable course fees for everyone!
From a cost point of view, distance learning is clearly superior to other forms of further training.

Anyone can afford a distance learning course at the Weber Distance Learning School, whether for professional development or "just" out of interest in technology.
Course fees
Computer technology - service and repair (with hardware and software *): 18 monthly installments of EUR 96 each
Computer technology - service and repair (without hardware, with software): 18 monthly installments of EUR 86 each
*: The hardware: PCI diagnostic adapter, PC tool kit
. The software: PC diagnostic program, electronic computing software.
Under the menu item "Study Funding" you will find information on funding opportunities and our special rates.
Free information
You can find all the information about your desired course and tips on distance learning in our study guide.
Request now without obligation.
Immediate registration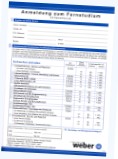 You can start your desired course at any time.

The study registration
you'll find here.

All distance learning courses at the Weber Distance Learning School have been tested and approved by the State Central Agency for Distance Learning (ZFU).

[Jump to top of page]