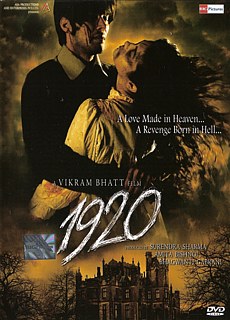 > molodezhnaja main page
> asian movies
> bollywood
> 2008
> 1920





Horror movie. India. Hindi
Alternative title-
DirectorVikram Bhatt
scriptVikram Bhatt, Dheeraj Rattan based on a story by Vikram Bhatt
production Surendra Sharma, Amita Bishnoi, Bhagwanti Gabrani
Songs Adnan Sami
camera Pravin Bhatt
actor Rajneesh Duggal, Adah Sharma, Anjori Alagh, Raj Zutshi, Vipin Sharma,
Amin Hajee, Ashish Pradhan, Vallabh Vyas, Bob Brahmabhatt, Rakhi Sawant
length 138 min.
Theatrical release 12.9.2008
Box office classification Average
Molodezhnaja age recommendation from 12

© Text Marco, molodezhnaja 22.11.08
© Pictures BIG Pictures, screenshots molodezhnaja
---
STORY
The devout Hindu Arjun Singh Rathod (Rajneesh Duggal) falls in love with the Christian Lisa (Adah Sharma) in 1920. Since Arjun's father and the village elders do not approve of such a relationship, they want to set Lisa on fire! Arjun saves her, marries her and moves with her to Bombay. There, the young architect received the offer to demolish a huge property in Palanpur, northern India, in order to build a luxurious hotel in its place. Lisa accompanies him. But she soon hears voices in the walls and is plagued by eerie apparitions. The local priest, Father Thomas (Raj Zutshi), wants to help her, but soon has to assume that demonic forces are at work here.
REVIEW
"1920" has all the ingredients to disappoint. From his no longer dewy exorcist theme to the unknown actors to director Vikram Bhatt, who has only been bobbing in the sea of ​​artistic mediocrity for years. But the horror film returns exactly these disadvantages to its advantages: Since the story has been told many times, the makers have a good blueprint for their script and develop the script powerfully. The young actors provide variety and draw attention to the content. And Bhatt, on the other hand, can make good use of his existing technical talent for once.
So everything is fine? Not quite. There are quite a few problems, mainly the length, the songs and the location, which doesn't look Indian at all. But in view of the solid entertainment value, one is more willing to overlook these deficits. The location in Yorkshire, for example, which could hardly seem more English, is wonderfully staged. Similar to the failed classic remake "The Haunting" (1999), with which "1920" has a lot in common, the house almost plays the leading role. Bhatt and his father, the cameraman Pravin Bhatt, bring out the elegance and beauty of the property as well as its eeriness.
The latter is central, after all, the film is supposed to be scary. Vikram Bhatt has mixed experience in this area, with the hit Raaz or the flop Fear, here he works solidly. Walking through corridors at night with fluttering white curtains no longer creates nerve-racking tension, but there is always an eerie atmosphere in the air. That is intensified by the fact that the film is set in 1920. Light sources are often oil lamps and candles, which means that the appealing sets or the faces of the actors are shrouded in a more beautiful light than if it were a production set in the present.
However, because Bhatt lingers too long on incidental issues, the tension in between also falls off. The debutants Rajneesh Duggal and Adah Sharma are not strong enough to get through these phases. He is a former model and surprises early in the film with the complete mantra "Hanuman Chalisa", which he supposedly learned as a ten-year-old to dispel his fears. But the pretty boy fails in emotional scenes. Sharma, on the other hand, who looks like a mixture of Kajol and an Englishwoman with big eyes and wavy hair, goes in the other direction and is allowed to exaggerate. Your faxes are known from other exorcist films, so little surprise remains. And towards the end it is a little too much madness.
"1920" is probably not a good film - too long, too trite, too predictable. In addition, the intermingling of religions weakens the finale, concentrating on one belief would have been more powerful. But unlike other Indian horror films, for example by Ram Gopal Varma, Vikram Bhatt does not trust loud "Boo!" Shocks here, but builds on atmosphere. The neat visual language, the solid actors and the competent montage do the rest to ensure that "1920" at least makes its way into the upper middle field. No, not a big hit. But you can kill two hours with much worse Hindi horror.
SONGS
1) Vaada Tumse Hain Vaada - gentle vocals with a background music flavor (Pandit Jasraj).
2) Bichua - Mediocre item number with Rakhi Sawant (Shubha Mudgal).
3) Tujhe Main Pyar Karu - Gentle, less intoxicating background song (Kailash Kher).
4) Aise Jalta Hai Jiya - At this point it is useless piece, also vocally not stunning, despite Asha (Asha Bhonsle).
MY DVD
BIG Picturs (USA), Code 0, NTSC
Image: Anamorphic Widescreen
Sound: Hindi 5.1 with English subtitles (film and songs).
Disk Rating * * ½ (some pixelation and blurring in the image, especially with rapid movements)
TO ORDER
nehaflix (delivers from USA)
EXTERNAL REVIEWS
imdb
Bollywood Hungama (3/5)
Rediff.com (1/5)
SCREENSHOTS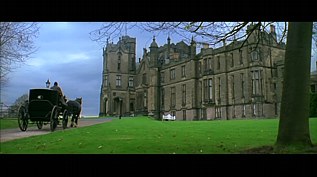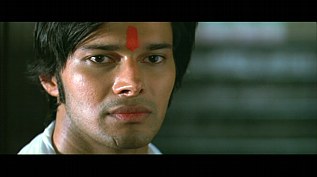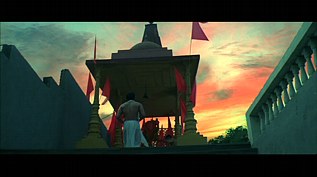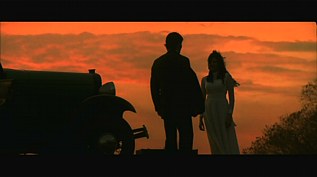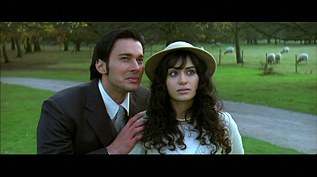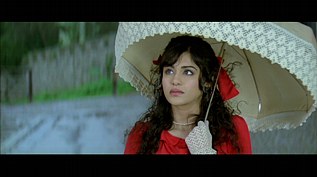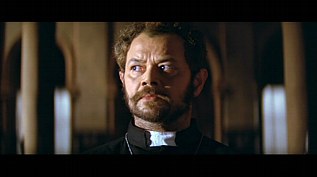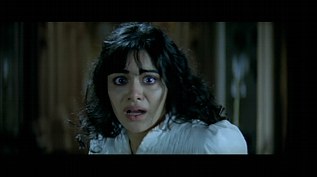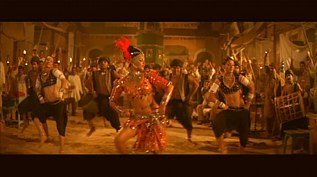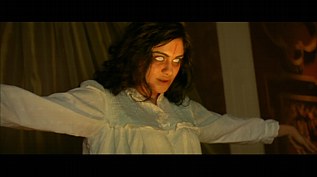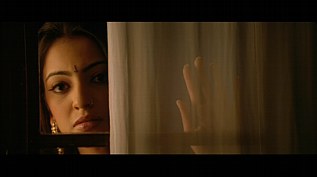 ---

created by molodezhnaja
all rights reserved.
Page optimized for Internet Explorer 6/7