What is the name of telematics in motor vehicles
Telematics insurance: Saving money is possible, but there are downsides
What is a telematics tariff for motor insurance?
By means of telematics - made up of "tele (communication)" and "(information) matics" - insurance companies can collect and evaluate data on their customers' driving style. As a rule, a small telematics box installed in the car locates the vehicle via GPS and continuously logs travel data such as speed, acceleration or braking behavior. The telematics box then sends the information it collects to the vehicle insurance company via the cellular network.
As an alternative to the GPS black box, customers of some motor insurers can also install an app on their smartphone, which is used to save and transmit the data.
The advantages of telematics tariffs for the insurer are obvious: They can monitor the driving behavior of their customers, create behavior profiles, identify bad risks and price them accordingly.
Drivers who are willing to disclose their driving behavior will be rewarded with telematics tariffs for careful driving. Because: In return for the data, the insurance companies promise considerate and defensive drivers Discount on the insurance premium.
With a telematics tariff, the amount of the motor vehicle insurance premium is no longer only tariffed according to the characteristics of the vehicle, the owner or the driver, but rather according to the concrete driving behavior calculated.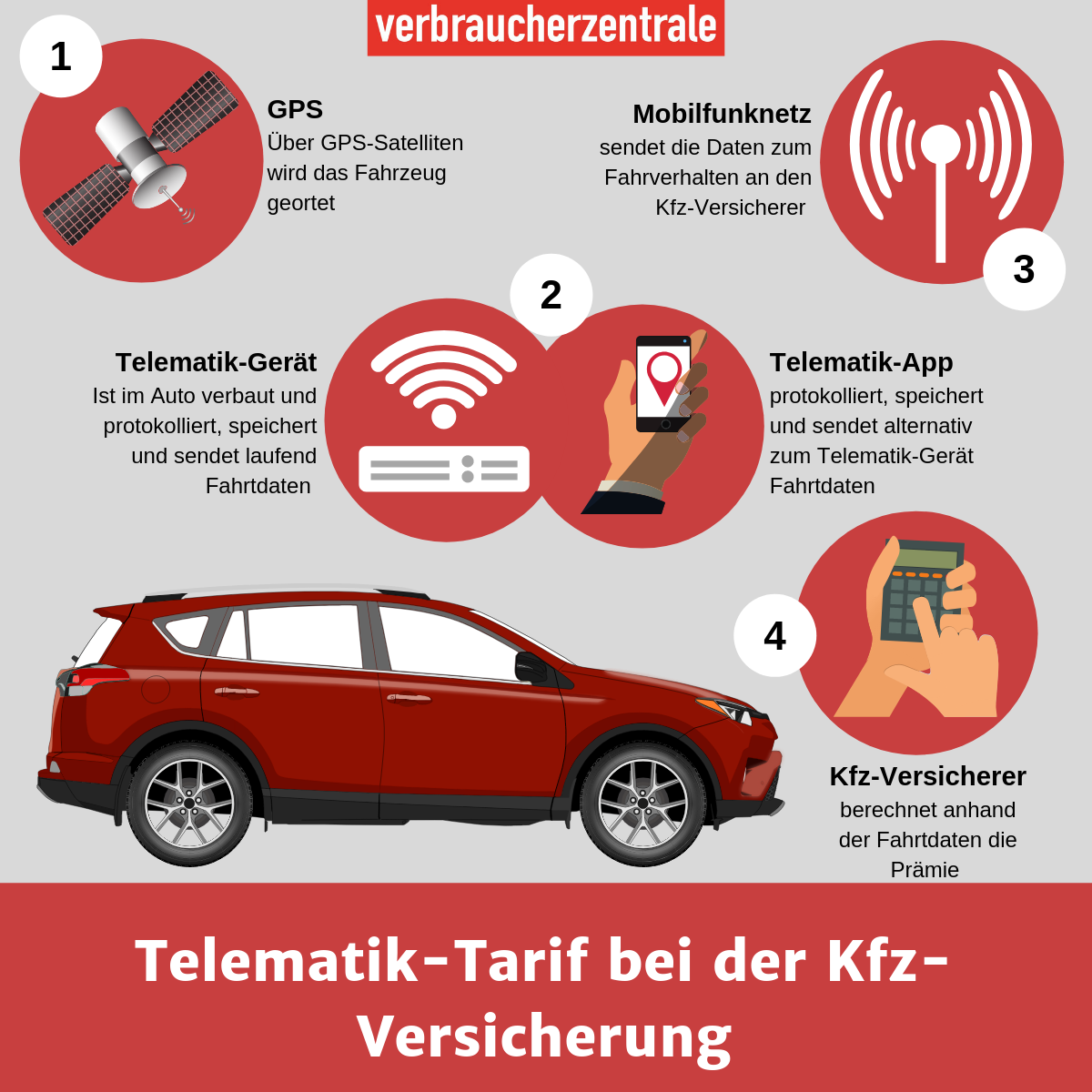 How is the telematics contribution calculated?
For mindful driving, insured persons collect points for each journey, which result in a total score. The following applies to the premium to be paid: the less risky the driving style and thus the higher the number of points, the cheaper it will be.
The criteria used by motor insurers to calculate the score model differ between the individual tariffs, as does the weighting with which the individual criteria are included in the calculation. Data that can be used to calculate the savings on a telematics tariff are, for example:
speed
Excessive speed leads to accidents more often. Those who stick to the speed limits therefore collect points and can reduce their bonus payment.
Braking behavior
Sudden braking can lead to rear-end collisions and indicates a driving style that is not very foresighted. Risky braking maneuvers therefore shrink your telematics score.
Acceleration behavior
Anyone who frequently accelerates quickly and strongly when starting off will be penalized with a deduction of points.
Driving behavior in curves
Many accidents occur in curves due to increased centrifugal forces. Smooth steering movements and good cornering therefore have a positive effect on the bonus payment.
Travel time and place
When driving in rush hour traffic or driving at night with poor visibility, it crashes particularly often. If, on the other hand, you drive on the motorway in the morning, the risk of accidents is statistically lower - and you collect points for the telematics score.

An example of the weighting of the driving data (as of July 2019):
Braking behavior: 30 percent
Acceleration: 20 percent
Cornering behavior: 20 percent
Speed: 10 percent
Day, time, street type: 20 percent
The transparent driver: what does the data say about you?
The evaluation of the relevant driving parameters raises questions: Does abrupt braking or rapid acceleration really inevitably indicate a risky driving style? Or can a safety-conscious driver also be forced to do so when avoiding a deer?
What does the time, such as a night drive, daily driving in rush hour traffic or a weekend trip, say about the risk? Is it fair that the person who has to pass accident blackspots on the way to work should be rated less favorably?
And: Should connections between driving behavior and type of road, weather or season be allowed?
The more detailed a movement profile, the easier it is to draw conclusions about your life. If you drive a lot, your data will reveal exactly when you are, for example, where and where you have stayed. If you look at addresses you have approached, you can easily see details from your private life. This is interesting for personalized advertising, among other things. In online shops, goods prices can be tailored to you (dynamic pricing) and search engine results can be sorted differently.
If an accident has happened or someone accuses you of driving too fast, the recorded data arouse desires: insurance companies, police and other people involved in the accident may want to access the memory of your GPS device. If its data does not match your own perception, problems threaten. If you do not want to report minor accidents to the insurance company, they may still know about them.
For whom is a telematics tariff worthwhile?
In the first few years, regular car insurance premiums are relatively expensive. Novice drivers pay a lot because they have an increased risk of accidents. For this reason, telematics can be financially worthwhile, especially for young drivers. If you drive carefully, novice drivers can save up to 30 percent (as of October 2018) on insurance premiums.
On the other hand, if you have been driving an accident-free car for a long time, you have one higher no-claims class achieved, a telematics tariff can even be more expensive for you.
Even those who have to drive through the city to work at rush hour, often drive at high speed on the autobahn or make a lot of nighttime journeys can get away more expensive with a telematics tariff.
Risks of telematics tariffs: what should you watch out for?
We summarize what you should consider with telematics tariffs for motor vehicle insurance:
privacy
If you want to take out a telematics tariff with your motor vehicle insurance company, you should always bear in mind the scope of your consent to the use of data. Are you aware that insurers collect and store a lot of sensitive traffic data from you? Do you agree that motor insurers can monitor your driving behavior and save individual movement and behavior profiles of you? This also means that the insurer can use this data against you in the event of an accident.
In any case, read the data protection regulations carefully before concluding a contract. What is being done to protect your personal data? What data do you have to submit, what is voluntary? Does the insurance company give out data, for example to contractual partners or to the police? After what time will the data be deleted? Is advertising personalized?

GPS black box costs
If you install a GPS black box to transmit your driving data, you should consider the cost of this. If in doubt, the cost of the device or the rental can exceed your savings on the insurance premium.
Therefore, before concluding the contract, check both the maximum savings through a telematics tariff and the costs for the black box.

Telematics apps
As an alternative to the telematics box, some providers also offer an app or a stick for the cigarette lighter. However, check here very carefully what costs you will have to pay for this. Some insurers tie the use of the telematics app to other insurance contracts. In addition, some apps claim your data volume.
Please also note that trips cannot be taken into account if you have deactivated the GPS connection on the smartphone or the battery is empty. But watch out: if you only have the cheapest trips tracked on a regular basis, you run the risk of the motor insurer canceling the discounts.
If an app on your smartphone evaluates your telematics data, you should also make sure to stop the data collection when you are taking the bus or taxi or are only a passenger.

No claims class
If you already benefit from premium discounts for a low no-claims class with your car insurance, the new telematics tariff may be more expensive for you than the previous one.

Termination of the contract possible
If your driving behavior is particularly negative, the motor insurer has the option of terminating the contract. Please read the insurance conditions carefully before concluding a contract. In addition, a poor telematics score usually means that your insurance premium will increase.

Maximum discounts difficult to achieve
The advertised discounts for telematics are usually the maximum peak values. Think about whether you might not be able to achieve the highest discount anyway due to factors that are difficult to influence such as regular city trips at rush hour or night trips.

Other drivers of your vehicle
In the case of telematics tariffs with an installed GPS black box, every trip made by the car is assessed. Loaning your vehicle to an insecure or aggressive driver can negatively affect your score and increase your overall bonus.

The insurer is on board: where is the development headed?
In general, insurance works through long-term risk balancing as a collective. This means that many insured people create a balance between customers with predominantly high risks and those with predominantly low risks. However, digitalization increasingly means that everyone only pays according to their personal risk status.
This is especially problematic with high risks through no fault of their ownthat have to be paid very dearly. In the worst case, this leads to certain consumers no longer receiving insurance protection.
The Federation of German Consumer Organizations (vzbv) therefore demands that ethical limits on tariff criteria not through insurance companies be determined. Dealing with social and ethical consequences (such as the risk of a progressive loss of human autonomy and access to affordable insurance cover) must be discussed and negotiated in a broad public debate.
eCall: This is how the automatic emergency call system works in the car
Since March 2018, all new car models must be equipped with the eCall automatic emergency call system. How exactly digital first aid works and who is affected by the EU regulation - we clarify important questions.
This content was created by the joint editorial team in cooperation with the consumer center Saxony and our federal association (vzbv) for the network of consumer centers in Germany.